School production of Dick Whittington, 1910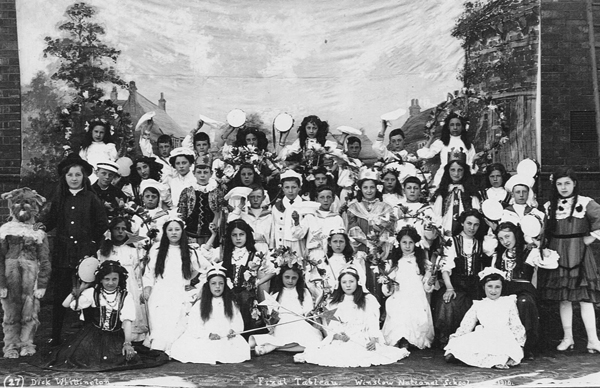 In April 1910, the National School put on a very large-scale production of Dick Whittington, described as a children's operetta. It was performed in the Oddfellows Hall. It must have been a big undertaking for the headmaster, George Pass, and the other teachers, including Eva Underwood. Miss Underwood (later Mrs Burton, 1888-1991) left the school in June 1910 after working there for two years, and she was presented with an album of photos of Dick Whittington. This has been generously donated to the Winslow History Project by her great-niece and great-nephew Carol and David Underwood.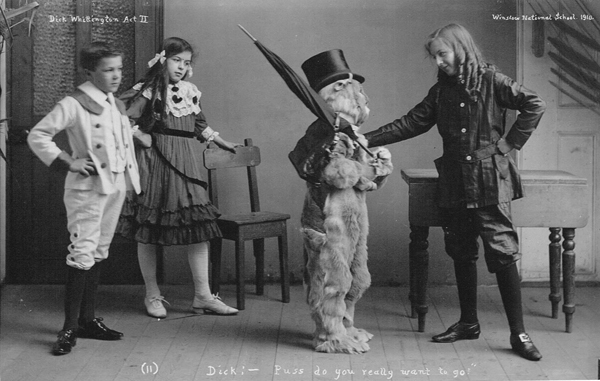 Most of the photos appear to have been "staged", either at the school or in the studio of J.H. Turnham the photographer. Please see our Facebook page for the whole album. This was the report in the Buckingham Advertiser (23 April) after the first performance:
The finest spectacular entertainment seen in this town for many years was the operetta, "Dick Whittington and his Cat," given by over 50 children of the town schools on Thursday and Friday last. For months the children, under the Headmaster, Mr. Pass, and Miss Collier, Miss Attwooll, and Miss Underwood, had been practising and rehearsing the piece until they had reached quite a pitch of excitement, which appeared to be shared by mny of the parents; at any rate, the Oddfellows' Hall proved on both nights to be too small for the company, many of whom could not gain admission, so that the piece is to be repeated shortly. It was in four acts, the first scene being a roadside, specially painted by Mr. Rich, of Great Horwood (and bearing a very suspicious resemblance to that village); the second and concluding scenes were in Alderman Fitzwarren's Kitchen; and the third in the King of Barbary's Palace. Dick Whittington (Eunice Emerson) was of course the hero of the piece, and bore the strain of it remarkably well. There was a remarkable cat (George Smith, in a Teddy-bear skin), who washed his face and played about in regular kitten style; Alice Fitzwarren (Nora Brimrose), Dick's sweetheart, whose acting was probably the best of the lot; Jack Fitzwarren (Douglas Emerson), Dick's friend; Captain Sailaway (John Rolfe), quite a naval character; the King of Barbary (Reginald Norton), the Queen (Ethel Verney), and the Princess (Mabel Rowe), all of whom acquitted themselves well; the Cook (Jessie Viccars), a very outspoken personage; the housemaid (Mildred Plank), whose quaint actions and speeches took the house by storm. There were Fairies, Gipsies, Sailors, Morris Dancers, Floral Dancers, Pinafore Dancers; there were bells, there were tambourines; there was a jester; ... there were bright dresses, attractive music, and graceful dancing; and the applause was frequent and well-deserved. The piece, which occupied quite two and a half hours, never flagged, and the children showed no signs of tiredness, although at the last moment Frances Alderman, who was to have taken the Princess' part, was prevented by illness from doing so. The whole reflected very great credit on the promoters and all who took part (including Messrs. Attwooll and Millard, the room stewards), not only for the acting and singing, but also for the costumes, which must have entailed a lot of labour. We understand the takings were about £22 and the profits above £9.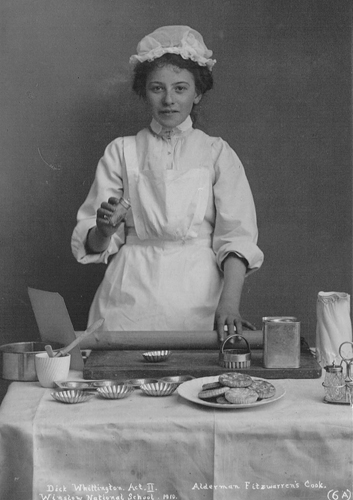 Cast:
Dick: Eunice Emerson
Cat: George Smith
Alice Fitzwarren: Nora Brimrose
Jack Fitzwarren: Douglas Emerson
Captain Sailaway: John Rolfe
King of Barbary: Reginald Norton
Queen of Barbary: Ethel Verney
Princess: Mabel Rowe
Court Maids: Louie Wise, Winnie Tallett
Cook: Jessie Viccars [photo, right]
Housemaid: Mildred Plank
Jester: George Smith
Fairies: N. Gooding, N. Roads, E. Lambourne, E. Chapman, E. Wilmore, D. Grace, O. Mullis, A. Boyall
Gipsies: K. Roads, N. Langley, C. Holt, W. Gates, A. Taylor, W. Tallett, E. Goodger, L. Wise
Sailors: B. Atkins, H. Tallett, P. Taylor, S. Putman, W. Taylor, E. Jackman, C. Walker, M. Foskett, G. Langley
Morris Dancers: E. Gazey, N. Young, C. French, D. Dickins, D. Roads, I. Parsons, C. Walker, G. Langley, P. Taylor, W. Paddon, V. Wilson, B. Jackman
Floral Dancers: Mabel Rowe, Hilda Lambourne, Dorothy Wilson, Elsie Lambourne, Nellie Roads, Ella Goodger, Alice Boyall, Dorothy Grace
Pinafore Dance: Frances Alderman, Dorothy Wilson, Nina Langley, Nora Gooding, Winnie Tallett, Mabel Rome
Women with babies: E. Alderman, E. Lee, E. Gazey
Some of the actors also appeared in a concert at Great Horwood on 18 April. There was a third performance on 26 April, and a fourth and final one on the 29th for schoolchildren from neighbouring villages and "as many of the general public who could obtain admission". Frances Alderman took her original role as the Princess. According to the Advertiser, "Quite 400 were present, and it is estimated that about 1,500 have attended the performance altogether."
---
See also: