Horn Street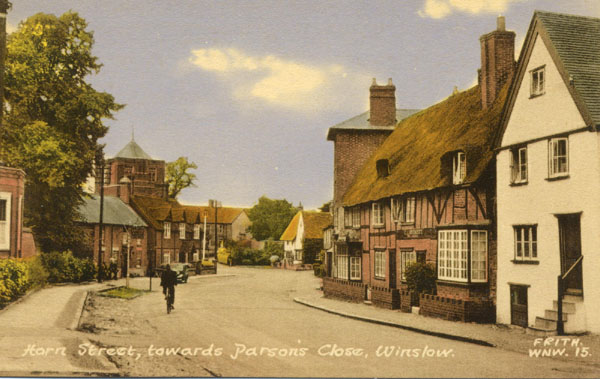 The name Horn Street seems to be recorded first in the 18th century (usually as Great Horn Street), but the road was part of the east-west axis along which Winslow originally developed. It has been suggested by the Bucks Historic Towns Project that the street's curvilinear shape marks the original southern boundary of the churchyard.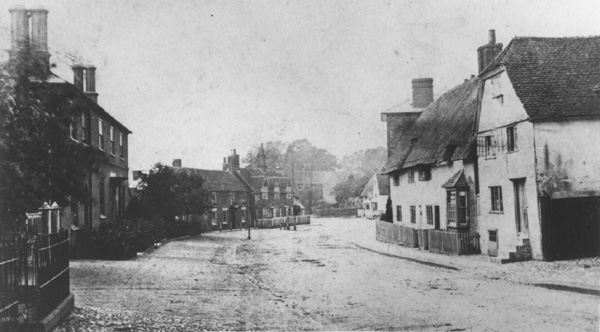 The photo above shows Horn Street before the present Congregational Church building was erected
Click on the map for links: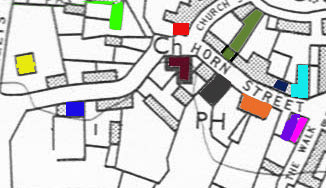 ---
The photo below of the Market Square end of Horn Street shows the house which was occupied by the Grace family for over a century. The adjacent forge is to the right, not visible in the photo, behind the Fire Station. The building on the left is Heritage's undertakers.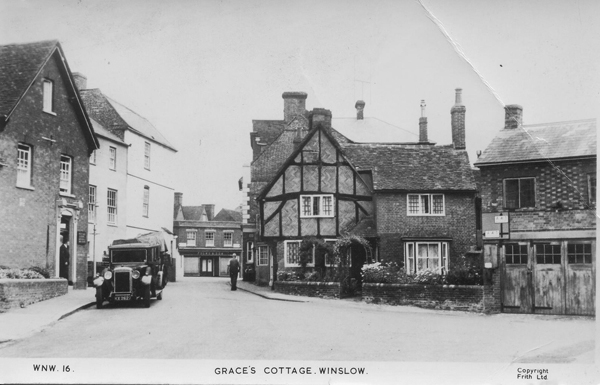 Northampton Mercury, 25 October 1794
TO BE LETT
And entered on immediately
A Dwelling-House, with a Yard, Barn, and a Garden adjoining;
Together with an old accustomed BLACKSMITH'S SHOP situate in
GREAT-HORN-STREET, WINSLOW, late in the occupation of
John King, Blacksmith.
N.B. The Anvil, Bellows &c. with the rest of the working Tools,
To be taken at a fair Appraisement.
Enquire of John Cox, Plumber and Glazier, Winslow, Bucks.
Northampton Mercury, 17 March 1792
TO BE LETT, and entered upon at Old Lady-Day next the PLUMBING and GLAZING SHOP, belonging to JOHN COX, Plumber and Glazier, In Winslow, in the county of Bucks (who intends declining business on Account of his Health) – Also the STOCK in TRADE to be DISPOSED OF.
For Particulars apply to the said John Cox.
John Cox was still a glazier in 1798. He was recorded in the 1841 Census living in Great Horn Street aged 105, so his health was evidently better than he thought. It is unclear if the premises above were in Horn Street.
Copyright 30 November, 2012