Market Square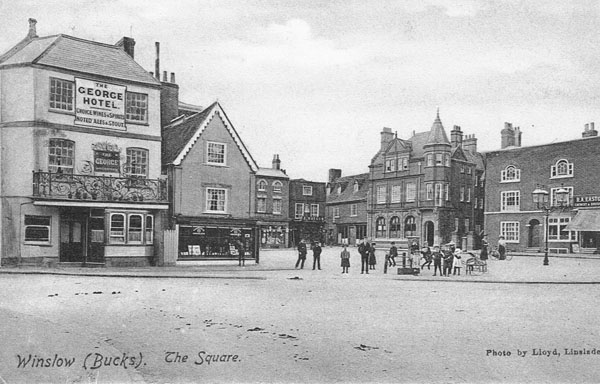 Click on the links on the map below: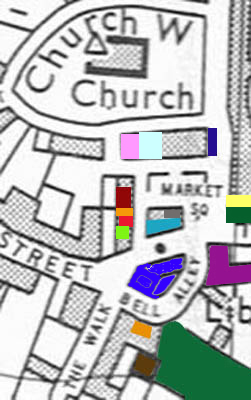 The original Market Hall or Moot Hall, "an ugly old timber and plaster Market House standing upon pillars" (Clear 1894, 117) survived until 1840. "Winslow Market House has been sold and is about to be pulled down" (Oxford Chronicle, 19 Sep 1840). Some timbers may survive in nearby buildings, including two pillars in the doorway of 7 Market Square and one under the stucco of The George.

Midgleys' Ironmongers in 1935/6

The same shop in the early 1980s

Fulks & Son (1960s)
---
Buckingham Advertiser, 16 July 1881
A handsome new three-light gas lamp has just been erected in the centre of the Market-square and no doubt will be found to be a great improvement when the dark evenings come on.
The premises below have not yet been identified - suggestions welcome
Northampton Mercury, 23 Feb 1793
To MILLINERS
A small HOUSE and SHOP, at an easy Rent, with a neat Assortment of fresh GOODS, to be DISPOSED OF immediately, near the MARKET-PLACE, in Winslow, Bucks — Any Person, with a Capital of 100 l. may purchase the Stock, or Part of the Purchase-Money remain on the Premises, if required — The Stock may be taken at Prime Cost, without any Premium.
For Particulars, enquire (Post-paid) of Mr. Robert Osborn, Ironmonger and Seedsman, Banbury, Oxon.
NB The above was the property of Miss Cox, of Winslow, lately married, and for which reason it is to be disposed of.

Bucks Herald, 26 Oct 1811 (this could be no.15)
To Drapers, &c,
To be SOLD by AUCTION,
By W.Berry,
On Thursday the 31st Day of October, 1811, at the Bell Inn, Winslow Bucks, (punctually at Six o'Clock in the Evening), under such Conditions as shall then be produced, viz.
A Substantial well-built Brick and Tiled MESSUAGE, or TENEMENT, advantageously situated for Trade, in the MARKET-SQUARE, WINSLOW aforesaid; comprising an Entrance-passage in front, on the Right a Neat Parlour, on the Left a good Shop, with Bow-window, three Bed-Chambers, two Garrets, excellent Kitchen, in which is a good Pump, and plenty of Water, back Kitchen or Scullery, Beer and Coal Cellars, and suitable Offices, now in the Occupation of the Proprietor.
The above Estate is in complete Repair (Copyhold of Inheritance, held of the Manor of Winslow aforesaid, subject to Quit Rent, 3d. Herriot when it happens, Fine 6s. Land-Tax 3s 6d) and a desirable situation for a small genteel Family, or a person wishing immediately to enter into Business, as an early Possession may be had.
For further Particulars, enquire of Messrs. WYATT & WILLIS, Solicitors, Winslow, Bucks, who will send a Person to shew the Premises.
Particulars also may be known of the Auctioneer, Aylesbury, Bucks.
Copyright 27 December, 2019