Biggin
While the Manor of Winslow belonged to St Albans Abbey, Biggin was the Abbot's local centre, from which the demesne was run, and where the Abbot's representative (usually the Cellarer) stayed when he came to hold the manorial court. The whole of the St Albans estate, including Granborough and Little Horwood, was sometimes referred to as the Manor of Biggin. After the Dissolution, Biggin became a farm in its own right. This short piece by Alfred Clear was published in the Buckingham Advertiser, 8 Sep 1934:
Only separated from Granborough Bridge by two fields, in the occupation of Messrs Dickins, is the ancient site, occupying about 1½ acres, of the "well fortified" Manor House, Chapel, monks cells and "Scole of the Monks" known as "Biggin," and with the ancient ford leading across the brook one way into Granborough village, and the other into Western Lane, Winslow (a much shorter way than the present road) is the big knoll, which is all that remains of this anceint spot, although in Granborough Church is a Chrismatory which is believed to have come from the Chapel there, having been found in a niche in the Chancel of the Church in 1880. .. There is also preserved in the Church part of what is believed to have formed the altar piece at Biggin, being a group of marble figures representing the Crucifixion. This was preserved in the gable of the ancient house now occupied by Mr. W. Hughes, where it is presumed it was placed at the time when Biggin was finally demolished about 1680. It is probably of 12th century date and is now in the Church...
Finally came the dissolution of monasteries and Biggin came into the hands of Queen Elizabeth and degenerated into an ordinary farm, its conventional buildings being pulled down and most of its stonework, which is sure to have been of a very handsome character, was conveyed to Swanbourne, where it still remains, although it is believed that the foundations and part of the end of the "old workhouse" at Winslow which can still be seen were built with stone from Biggin. The adjacent fields, Winslow side of the brook are still known as "Biggin."
In fact it is unlikely that there were ever any monks permanently resident at Biggin. The Cellarer stayed there on his biannual tour of the St Albans estate, but it was mainly used by the laymen who ran the manor on behalf of the Abbey. After dissolution in 1539 it became an enclosed farm, as can be seen on the 1599 map. There was a house of some sort there long after 1680. Below are extracts from some documents relating to Biggin.
Above: Biggin earthworks photographed July 2016, looking south towards Granborough.
Below: Google Earth view of Biggin earthworks (north at top).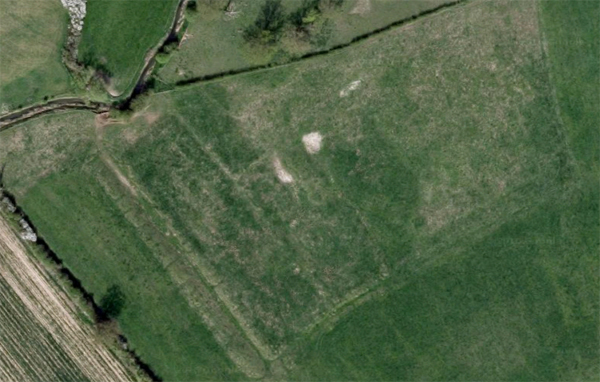 ---
Record Office Publications: Calendars Patent Rolls Edward III (E4459), Volume for 1327-1330
4 Edward III pt. 1 Membrane 39
23 February 1330 Windsor
Confirmation of a demise for life, by chirograph, by the Abbot and Convent of St. Albans to Simon Fraunceys, citizen and mercer of London, at a yearly rent of £200 of the Manor of Biggynge, Co. Bucks, with the towns of Wyncelowe, Horwode, Schipton and Greneburgh, with rents, services and customs, view of frankpledge, etc., and the market of Wyncelowe, with the profits and fines therefrom accruing, the windmills of Wyncelowe, Horwode and Greneburgh, and all other appurtenances, except chattels of felons and fugitives, and execution and return of writs; and also of all rents belonging to the Abbot and Convent from Ovynge, Middleton Kaynes and Northmerston.
By p. s.
---
Winslow Court Books 1 June 1335 (p. 13)
Simon Fraunceys feels that a matter referred to the court under the Ash Tree at St Albans ".... is to the prejudice of himself and his status...."
Winslow Court Books 31 Oct 1335 (p. l3v)
"....the Lady of Kirkby, former farmer of Winslow, who had full authority as she said from Master Hugh, former Abbot of St Albans and the Monastery of that place to hold a halimiote in his name and receive surrenders of holdings and native lands from all the villeins of the manor...."
Winslow Court Books 23 May 1336 (p. 14v)
John Lombe sublets 2 acres in Ryefurlong ".... which Simon Fraunceys farmer previously devised to John from the Lord's land for the term which Simon had on them...."
Winslow Court Books 29 May 1340 (p. 23v)
Demesne land at Tuckey is said to be held ".... within the term which Simon Fraunceys has on the Manor of Winslow ...."
Winslow Court Books 18 Nov 1342 (p. 29)
Simon Fraunceys appears to have died or given up his lease as there is reference to ".... the time of Simon Fraunceys farmer of the Manor ...."
Winslow Court Books 15 Nov 1352 (p. 61v)
Although there is no reference to another farmer of Biggin or of the Manor at this time, John le Chandeler a freeholder is to show his charter ".... on the following day at Byggyng...."
Winslow Court Books 20 May 1353 (p. 63v)
Perhaps the Cellarer conducting the Court stays overnight, or maybe a Bailiff lives at Biggin for Ralph le Clere is to show a copy of his fine ".... on the following day at Biggyng....
Winslow Court Books 1426-7 (p. 11)
By this time there is again a tenant for ".... Robert Janyn farmer of the Manor of Byggyng...." appears.
Winslow Court Books 14 May 1431 (p. 19v)
The Court is held at "Grenburgh Bygging".
---
Chronica Monasterii S. Albani. Registra Quorundam Abbatum Monasterii S. Albani Qui Saeculo XVmo
Vol 2 p. 197
Abbot William Wallingford (1476-1488)
20 June 1479
Lord Abbot granted to John Barry, gentleman, an annuity of 40s, with the livery of his gentlemen, of a length reaching to John's feet. To collect the annuity annually in the Manor of Biggmg in the County of Buckingham, during the Abbot's life, with power of distraint; as appears more fully in the indentured letters patent then sealed with the Lord Abbot's seal. In return for the annuity and livery, John relinquished to the Lord Abbot all his lands and leases which he had in the Manor of Bigging, to be rented for £7. Furthermore, John, by reason of the annuity and livery, was one of the Lord Abbot's council etc.
---
Calendar of the patent rolls preserved in the Public Record Office--Philip and Mary, Vol. 3. 1555-1557, pp.406-7.
25 June 1557. Whereas by patent under the great seal of the Court of Augmentations,
12 March, 31 Hen. VIII, were granted inter alia to Richard
Breme, esquire, and Margaret [=Marjory] his wife the manor of Bigging in Greneburgh,
co. Buckingham, formerly belonging to the monastery of St.
Albans and before leased with a moiety [? of the waifs and strays]
by indenture 12 Aug., 25 Hen. VIII [1533], under the conventual seal for
21 years to John Duncombe of Bigging, ' yoman,' at a yearly rent of
10l., the reversion of which manor should come to the crown by reason
of a charter made by the late abbot and convent, to hold the manor
to the said Richard and Margery [sic] for life in survivorship with
certain reservations at a yearly rent for the same and other lands
contained in the said patent of 50l. 16s. l½ d., the reversion of the
premises after the death of Margery belonging to the crown ;
And whereas by patent under the same seal, 28 June, 5 Edw. VI [1551]
were leased to Benedict Lee the said manor of Bigging and a moiety of
all waifs and strays within it, with numerous reservations, for 21 years
from the determination of Duncombe's lease at a yearly rent of 101.;
For the sum of 206l. 16s. 0¼d. paid to Nicholas Brigham, one of the
tellers of the Exchequer,
Grant in fee to the said Benedict Lee of the reversion of the premises
and the said rent of 10l.
Grant also of the said manor ; also the advowson of the rectory
and church of Glymton, co. Oxford, which was formerly parcel of the
monastery of Kenilworth ; and all lands and rights (long list) in Bigging
and Greneburgh belonging to the manor.
Yearly value, 10l.
Except bells and lead (save leaden gutters and lead in windows) and
advowsons (save that of Glymton).
To hold as of the manor of Estgrenewich in free socage.
[m. 28.] Exoneration, except fees of the bailiff, etc. These without fine or
fee.
---
---
Ardene v Chester, 1585-6
This undated dispute from 1585-6 comes from the Court of Chancery. John Ardene said that in Jan. 1582 he conveyed his manor or farm of Biggyn to Thomas Lee, gent. (presumably as a mortgage arrangement). Thomas Lee then assigned it for 4 years from the following Michaelmas to Peter Dormer of Shipton Lee, Quainton, the brother-in-law of JA, as part of JA's marriage settlement. According to an indenture between PD and JA, PD would use the profits to pay JA's debts. JA said that the profits were more than sufficient to pay the debts, and PD allowed him to regain possession. PD also promised to pay JA 100 marks on his marriage. When PD died (in 1583, leaving a young son as his heir), his executor John Chester of Shipton Lee refused to honour the trust or render an account to JA, who asked for a writ of sub-poena against him, claiming that he and his wife and children were greatly impoverished. Read John Ardene's complaint.
John Chester's answer stated that JA did convey his term (i.e. unexpired lease) on Byggen farm to Thomas Lee, who then assigned it to PD for 4 years, of which there was less than 1 year to run. JC was willing to render an account to JA, but did not believe that PD had a surplus from the profits with which to pay JA's debts, and said that PD had used 200 marks of his own money. JC thought JA intended to sell the produce of the farm on his own account. He said that PD promised 100 marks to his sister if she married with his consent, but he did not consent to her marriage to JA, and he would not have allowed JA to regain possession of the farm. Now JA was hiding in his house and not daring to show his face. Read John Chester's answer.
There is not much information about the farm at Biggin, but there are references to arable land, corn, hay, horses, cows, pigs and wood.
---
1599: Map of Sir John Fortescue's land
Mr Lee: 180 acres freehold in Winslow
3 ½ yardlands in Granborough
---
10 August 1600: D/LE/1/64
Thomas Lee sen of Morton, Dinton gent
Alexander Hamden of Hartwell esqire
George Throckmorton of Fulbrooke esquire
Thomas Lee son and heir apparent of said Thomas Lee sen
Recites indenture of 20 July 1600
All that Manor of East Claydon and Botle Claydon with appurtenances situate and being in East Claydon and Botle Claydon ....
All that my Manor of Biggyn otherwise now known as Bury Farme with appurtenances situate standing and being in Wynsiowe and Granborough….
And all that farme of Morton with appurtenances situate standing and being in the parish of Dynton alias Donyngton ....
---
1 May 1622: D/LE/1/149
1)Sir Thomas Lee of Morton Co Bucks Knight
Thomas Lee of Hartwell Esq son of the said Sir Thomas Lee
2)John Duncombe of East Claydon Esq
Richard Pawley of Halton Co Bucks gent
& John Busbye of East Claydon gent
Re debts of Thomas Lee the son
All that Manor of East Cleydon .... and all houses buildings messuages cottages landes tenements meadows pastures …. lying and being in East Cleydon and Bottle Cleydon .... And also of all that farme or tenement with appurtenances in East Cleydon aforesaid commonly called or known by the name of the Pryorie farme with all houses buildings orchards gardens lands tenements pastures ...
And also of all that messuage tenement or farme with the appurtenances in Winslow and Granborough or either of them in the said County of Bucks commonly called or known by the name of Biggin Farme with all the houses edifices buildings orchards gardens landes tenements meddows pastures feedings closes comons wastes easements proffits comodityes and hereditaments whatsoever to the said messuage tenement or farme called Biggin Farme belonging or anywise appurtaininge or accepted reputed or known as part or parcell or member thereof situate lying and being in Winslow and Granborough aforesaid or in either of them in the said County of Bucks
---
Archdeaconry Court of St Albans, 1636
Herts RO ASA7/31, f.4 (19 March 1635/6): Stephen Janes of Granborough said that his predecessors had a special seat in Granborough church as "inhabitants of the farme called Biggen Farme", of which Richard Grace had deprived him.
f.6 (2 April 1636): Richard Grace said the seat had long belonged to the possessor of Graces Ferme, not the Biggen Ferme.
Enquiries continued for over a year, including a commission to the Vicars of Winslow and Little Horwood to sit at Winslow church so the witnesses did not have the expence of travelling to St Albans.
f.55 (26 Sep 1637): according to his representative Nicholas Rolfe, "the said Richard Grace was and is the lawfull owner by right of enheritance or other good and lawfull right of the Farme house called Graces Farme with the lands thereunto belonginge wherein hee then dwelte and occupied and now dwelleth and occupieth" as previously stated "and that the said Stephen Janes is but Tenant Baylife or servant to the owner of the Farme called the Biggen Farme" as previously stated "and that all the lands belonginge to the said Biggen Farme are not in the occupacion of the saide Stephen Janes but att least three partes a moytie or the fourth or some other part of the saide lands are letten to some other person or persons whoe occupie and possesse the same and are taxed and doe paye for the same to the Repayre of the church and other Taxacions".
Janes' representative Dagnall disagreed and the case was again postponed.
f.62v (12 March 1637/8): Richard Grace presented letters inhibitory from the Court of Arches preventing the Archdeacon's court from reaching a verdict.
---
Will of Stephen Janes of Biggin, Farmer yeoman 2 September 1638
.... I doe give unto my wyfe Cisilye Janes that pte of the farme house wherein I nowe live called Biggin Farme all that pte Eastward from the Halle duringe the terme of yeeres wch to be belongethe by virtue of one Lease yf that she shall soe longe lives Alsoe I give unto her out of the sayd farme to be payd by my executors the some of twentie poundes yeerlye to be payd halfe yeerlye by equall porcons after my decease duringe the terme of the sayd lease yf that she shall soe longe live, Item I give unto her in the Chamber over the newe Halle two iryned Chests, alsoe I doe give unto her in the Chamber over the buttorie one iryned bedsted, two iryned Chests, one fetherbed, foure fether bowlsters, one flockbed, two newe Coverletts, one other Coverlett, two payre of blanketts, six pillowes, ten payre of sheetts, five payre of pillowbeers, three dozen of napkins, In the Cheese Loft one Chest, In the Kitchin one brase pott one brase pan, two possenetts, One Bason and ure, One dozen of pewter platters,,two great pewter Candlesticks, two brazen Candlesticks, One pewter flaggon, one pewter bole, one great pott, six fruite dishes, one dozen of sawsers, Itm I give unto my Daughter Margarett Janes the some of ten poundes to be payd unto her yeerlye after my decease forthe of the sayd farme and the pfitts and commodities that shall arise thereupon duringe the terme of the sayd Lease, after the terme of foure yeeres is expired after my decease, and yf my wyffe doe decease att anie tyme before the sayd terme of yeeres be expired that then my will is that my Daughter Margarett shall receave twentie poundes a yeere forthe of the sayd farme duringe the terme of yeeres that shall then remayne unexpired of the sayd Lease to be payd unto her halfe yeerelye by equal I porcons Itm I give unto my Daughter Marie Janes - xiid All other my goods Cattells & Chattells quick & dead of what sort and kinde soever they be I give and bequeathe unto my son John Janes whome I doe make my sole & whole executor of this my last will and testament In witnesse whereof I the sayd Stephen Janes have heereunto sett my hand and sealle this Fowrthe Daye of September in the yeere of the reigne of our Sovereigne Lord Charles by the grace of God of England Scotland France and Ireland Kinge Defender of the faythe the fowrteenthe 1638
Stephen Janes
his marke
Sealed & Delivered in the p(re)sence of
Richo: Brinsall
Willm Wiatt
Thomas Montague
1638 15 Sept. Stephen Janes buried at Granborough
1639 14 Sept. Margaret Janes dau of Cicelie Janes buried at Granborough
1645 1 May Cicelie Janes buried at Granborough
---
1677: Notes by Arthur Clear, The King's Village in Demesne, p.45
In 1677, one Martha Jones, (alias Sandford), of Epperton, Co. Notts, and others, conveyed to Sir Robert Clayton, Knight, Alderman of London, and John Norris, Esq., in consideration of £4,119 3s. 4d., the Manor and Farm called Bigyn, or Bury Farm, and lands in Grenesburgh and Winslowe.
---
1695: Inventory of William Wyatt of Shipton
Item all ye hay att Bicken farme: £8
---
1725, 18 Oct: Will of Thomas Key of Biggin Farme in the parish of Granborough in the County of Bucks
I give unto my eldest daughter Shielometh for whom I have already provided £100 to be paid out of my estate at Biggin Farm within twelve months after the decease of Dinah my loving wife
I give unto Hannah Deeley my granddaughter the like sum to be paid at the same time if she shall be then living
I give unto Elizabeth Key my daughter all my lands tenements and hereditaments in Steeple Claydon and Ethersay Oldwick in the County of Bucks to hold to her and her heirs for ever paying unto John Deverell so much principal and interest money as shall be outstanding from me at the time of my decease the same principal being now £320
I give unto the said Dinah my loving wife the use of all my household goods and utensils of housewifery during so long time as she shall live sole and unmarried whereof my will is that a particular shall be made after my decease and signed by my said wife and the said Elizabeth my daughter with a counter part thereof to whom I give the same goods after my wife's decease
I give unto the said Dinah my loving wife all that my estate in the parishes of Granborough and Winslow and either of them to hold unto the said Dinah my loving wife for the term of her natural life and after her decease I give my said estate in Granborough and Winslow unto the said Elizabeth my daughter and her heirs to hold to her and her heirs for ever paying unto the said Shielometh and Hannah the said several sums of one hundred pounds apiece as aforesaid
I give unto the said Dinah my wife all other my personal estate whatsoever and wheresoever whom I make sole executrix of this my last will and testament
Witnesses
Eliz Merwin
Nicho Merwin
John Wyatt
1727, 20 April: Will of Thomas Key proved in London by Dina Key relict
1736: Shelomith wife of John Dealey gent and daughter of Thomas Key of Biggin Farm gent died 1 Sept 1736. Buried at Launton, Oxon.
---
1730: Marriage settlement
1) Charles Gibbs sen of Lillingstone Dayrell gent
Charles Gibbs jun of Lillingstone Dayrell gent
2) Elizabeth Key of Abthorpe Co Northants daughter of Thomas Key late of Biggin in the parish of Granborough gent
3) Rev Joseph Key of Marks Kerby Co. Warwick clerk
Marriage settlement on intended marriage of Charles Gibbs jun to Elizabeth Key
All the messuages land and hereditaments situate in Horwood Magna Bucks formerly the property of Mary Williatt mother of Elizabeth Key
And also for settling the Manor and hereditaments belonging to Elizabeth Key being the Manor or reputed Manor of Biggin situate in the parishes of Granborough and Winslow and a farm called Biggin Farm and a new built house and lands in Granborough given to Elizabeth Key by the will of her late father
---
18th- and 19th-century references
1705: Will of John Deverell of Swanbourne, yeoman. He leaves to his son John "all my Estate at Granborow & Winslow", which might be Biggin Farm.
1730: Inventory of John Deverell of Winslow, yeoman. There is no indication of where he lived, but he was later referred to as "of Biggen Farm" (see below), and he was buried at Granborough. According to Browne Willis (quoted by Clear, p.45), John Deverell of Swanbourne pulled down the chapel at Biggin "after the restoration of King Charles II".
1746: Will of Josias Askew of Swanbourne gent 4 July 1746 (proved 1750)
... I give and devise to John Deverell of Winslow in the said County of Bucks ironmonger (son of John Deverell late of Biggen Farm in the parish of Grandborough in the said County grazier deceased) and his heirs All that Messuage or Manor House in Swanbourne aforesaid ...
1750: John Deverell mortgaged to Richard Fish of Grandborough for £153 7s 6d "a close of pasture called Bridge Ground containing 10 acres, part of Biggin Farm in the parish of Grandborough" (see Administration of Richard Shelton)
1766: William Butcher of Steeple Claydon mortgaged to James Burnham of Winslow for £40: "All that Close of Pasture Ground formerly called or known by the Name of Walkers Close lying and being in the Parish of Grandborough in the said County of Buckingham containing by estimation two Acres be the same more or less then late in the tenure or occupation of Robert Stevens his Assignee or Assigns formerly part of a Farm called Biggin Farm" (see Administration of Richard Shelton).
1767: Winslow Enclosure Award : ... a certain Plank or foot Bridge leading into certain ancient Enclosures in the Parish of Grandborough aforesaid called Biggin farm Grounds ...
1776: William Butcher and Rebecca his wife sold Walkers Close to Philip Box of Buckingham, draper, for £60. (see Administration of Richard Shelton). By 1805 the land had passed to Matthew Deverell of Salden.
1779: The mortgage of Bridge Ground was transferred to Richard Shelton of Winslow, currier, in trust for Mary Smith of East Claydon, spinster (see Administration of Richard Shelton).
1781: Will of Charles Gibbs of Towcester directed Biggin Farm in the parishes of Granborough and Winslow to be sold by his widow and executrix Phoebe Gibbs
1782 Land Tax: Owner: Charles Gibbs; Occ: Stephen Gibbs £6 15s 6d
1786 Land Tax: Owner: Charles Gibbs; Occ: Stephen Gibbs £6 15s 6d
20 Aug 1791: Northampton Mercury, sale advert
Two rich fertile PASTURE and MEADOW GROUNDS (adjoining) in the Parishes of WINSLOW and GRANDBOROUGH, about a mile from Winslow, on the Buckingham Road, known by the name of BIGGAN-FARM - Biggan House and other Buildings standing thereon; - with the Manor or Reputed Manor. - There are several thriving Trees growing on the same, with a Fishery running through the Meadow Part. The Whole containing about Forty Acres; in the Occupation of Mr Stephen Gibbs, Tenant at Will, at an old Rent of 55l per Annum.
Apply to Mr. Si. Adams, Attorney, Towcester
1795 Land Tax: Owner: William Selby Esq; Occ: Francis Budd £6 15s 6d
1799: Will of Richard Stevens, gentleman of Grandborough (National Archives PROB 11/1325/99)
"I give and devise unto my housekeeper Mary Bradbury ... all those my several Freehold inclosed grounds called or known by the Name of Biggin Farm ground"
1807: Will of William Selby (heretofore called William Lowndes) of Winslow directs executors to sell "all my farm lands tenements and hereditaments situate in Granborough in the said County of Bucks called Biggin Farm now in the occupation of Francis Budd".
1820: John Chapman of Whaddon acquired the freehold of Bridge Ground (see Administration of Richard Shelton).
Northampton Mercury, 1 July 1820
To be L E T T,
A Desirable SITUATION, at WINSLOW, in the County of Buckingham; consisting of a good dwelling House, with a large Yard, good Garden, Stabling, Barns, Piggeries, and other convenient Premises; together with about five Acres of good pasture Land, divided into two Closes, now in the Occupation of Mr. Francis Budd, who is leaving the same at Michaelmas next, when Possession will be given.
For a View of the Premises, apply to the TENANT; and for further Particulars, to Mr. RICHARDSON, of Thornborough Mill; or to Mr. EDWARD CLEAVER, Draper, at Newport Pagnell.
1825: Biggin Farm in Winslow and Holcombe Farm in Swanbourne, "then late or theretofore were in the tenure or occupation of Thomas Read his Undertenant or Undertenants assignee or assigns at and under a yearly rent of Two hundred and sixty Pounds" were settled in trust by William Selby Lowndes and his sister Maria Selby Lowndes to William Lowndes Stone.
1832 Land Tax: Owner: William Selby Lowndes; Occ: George Maydon £3 2s 8½d
1865 sale, lot 11
BIGGEN FARM, consisting of 35a. 2r. 2p., of first-rate Pasture and Meadow Land, adjoining the Road to Grandborough, in the occupation of Mr. George Maydon.
1866, 8 June
1)William Selby Lowndes and others
2) Henry Monk of Winslow grazier
All that scite or piece of ground situate and being in Granborough whereon a messuage or tenement in occ Stephen Gibbes then formerly stood and which was many years since pulled down …. Which said scite close and meadow were then formerly in occ Stephen Gibbes and were then in occ George Maydon...
1901 (proved 1903): will of Henry Monk
I devise ... my land known as "Biggin Farm" situate in the respective parishes of Winslow and Grandborough ... unto my Trustees Upon trust that my Trustees shall sell call in and convert into money the same
---
Arthur Clear: A Thousand Years of Winslow Life (1888): pp.4-5 on Biggin
The Manor of Winslow, with its members, Little Horwood and Granborough, continued parcel of the demesnes of St. Albans Abbey until the general dissolution of religious houses the time of Henry VIII, when it was surrendered to the Crown, in whose hands it remained until 1599, when Queen Elizabeth sold it to Sir John Fortescue, of Salden, for £2,329 7 1. A few years prior to this, viz 1586 - the Crown had granted to John Fortescue, in consideration of a tine of £6 13 4, a lease for 21 years at the annual rent of £1 13 4, - of the Office of Bailiff and Clerk of the Market of Winslow; and all waifs and strays, in right of the Manor of Biggin, near Winslow; with all stallage, piccage, tolnage, customs, rights, jurisdictions, etc., of the Forester in the Woods of Little Horwood. In 1619 the Manor was sold to Sir George Villiers, Marquis of Buckingham; it was purchased in 1697 under an act of Parliament, (giving power to Nicholas Goodwyn the Mortgagee, to sell it), by "William Lowndes, Esq., in whose family it still continues. The Manor of Biggin, was situate in Granborough, and the Abbey of St. Albans had long held a Grange or Farm there, with a Cell and Chapel, of which nothing now remains. But the extensive entrenchments and marks of the foundations may still be traced in a field near the present Granborough Bridge. The Church at Granborough was formerly a Chapel of Ease to Winslow, and Lipscombe, before quoted, mentions the existence of an old Deed or Roll, dated about 1250, in which Aston Abbotts is also called a Chapel under Winslow, it is therefore probable that the officiating Priests for these places, were supplied from the Cell at Biggin. In Grandborough Church there is carefully preserved a carved marble representation of the crucifixion, with a figure on each side of the Cross, this is believed to have been originally in the Chapel at Biggin, the buildings were still standing until about 1680, a family named Sanford being the last residents, the place was then mostly pulled down by John Deverell of Swanbourne, and the materials sold, and tradition has it that part of the same were used in repairing the Moat House at Little Horwood.
Copyright 29 January, 2018