Buckingham Road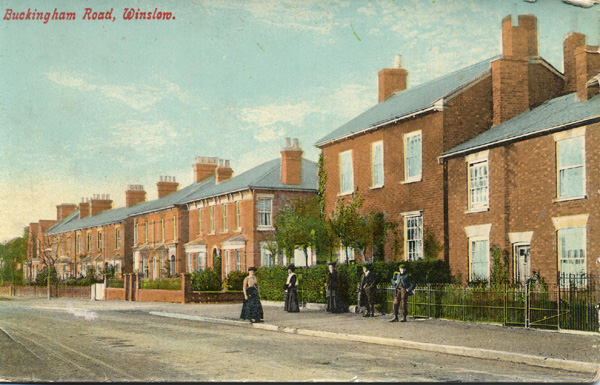 Buckingham Road, showing Nevada Villas and Alwyn House
The present-day Buckingham Road became the main route to Buckingham after the turnpike was created in 1742, but did not develop as a residential area until the mid-19th century after Station Road was built. Before the workhouse was built (and up to the 1861 census), the High Street north of the Windmill / Greyhound Lane was known officially as Buckingham Road.
The houses on the east were built piecemeal from c.1850. Nevada Villas (now numbers 10-16) were built c.1875. A full description of two of them can be seen in the sale catalogue from 1909 below (click on the images for full size):
The "garden ground" which was sold at the same time is now Courthouse Close.
Two large houses called Selby Villas (numbers 30-32) were occupied in the 1881 census by the extensive families of Thomas Henry Marks (coal merchant) and Arthur Stead Midgley (solicitor's clerk); eight other households were recorded in 1881 including Dr Henry Collins at Alwyn House. There were 14 in 1891. Number 34 was the hunting box of Sir Robert Abercromby. The Town Mill, powered by an early internal combustion engine at the beginning of the 20th century, was at the north end (now Mill Close). The White House, beyond the railway bridge, was demolished in the 1930s.
| | |
| --- | --- |
| | Buckingham Road looking north, before the development on the west side |
| | |
| --- | --- |
| Selby Villas | |
The land to the west was, after enclosure, a close called Gubblesgore. The owners after enclosure were William Aldridge and Benjamin Ingram. It then passed to two more Benjamin Ingrams who lived in Leics. Edward Heighton of Leicester bought it in 1825, when it was occupied by John Arnott. A small part was sold to the Bucks Railway Company. Later owners were Charles Appleyard of Lincoln's Inn and John Maydon of Moggerhanger. It remained as pasture land until after the First World War. The plan below shows the layout of the area in 1906, when it was bought by George Robinson of the Swan. Pieces of the land were sold off for development from 1920, when Harry Cripps the highway surveyor bought the plot of the house now called Gubblesgore. The first stage of the development can be seen in an aerial photograph.
| | |
| --- | --- |
| Click on the image for the full plan (East is at the top). This document, and others relating to the close called Gubblesgore going back to 1766, have been donated by Alan Goodgame and are now in the Winslow History Archive in the St Laurence Room. | |
Copyright 20 October, 2013