News
HERITAGE OPEN DAYS IN WINSLOW
16-19 SEPTEMBER 2021

Thursday 16 September, 14:00 and Saturday 18 September, 17:00
Winslow History Walk based on this year's HOD theme "Edible England". The walks will last about an hour. Please contact David Noy to book, by email (d.noy@btinternet.com) or phone/text (07713641238). This is to limit the numbers on the walks. There will be no need to book for the other events.

Saturday 18 September, 11:00–17:00
Keach's Meeting House will be open to visitors, with a display of information about the history of the building and the Winslow Baptists. You can see inside the small Baptist chapel (the oldest one in Bucks) built in 1695, which has open-backed benches, box pews, a gallery, pulpit, communion table and memorial tablets.

Saturday 18 September, 14:00–17:00
28 High Street (Winslow Town Council Offices) will be open to visitors, with displays of information about the history of Winslow and the work of the Town Council. It's a Victorian building which was rebuilt as offices in 1885 by the solicitor T.P. Willis who lived next door. After the scandal following his death in 1909 it became the headquarters of Winslow Rural District Council.

Sunday 19 September, 19:30 in St Laurence Church (please note the revised time)
Book launch: How One Man Transformed A Town: Winslow 1640–1770 and William Lowndes
A talk by David Noy about his new book (published in 2020) on William Lowndes and the impact he and his descendants had on their home town. William Lowndes will make a guest appearance during the talk!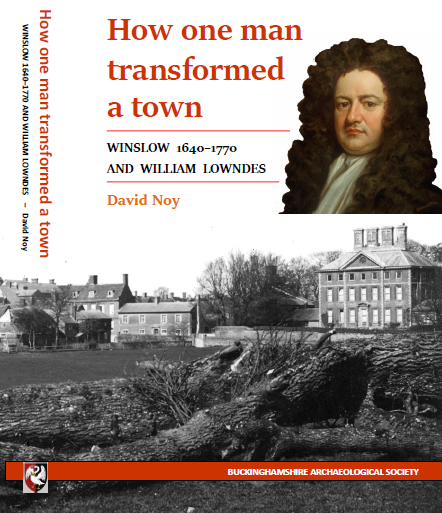 NEW BOOK: HOW ONE MAN TRANSFORMED A TOWN:
WINSLOW 1640–1770 AND WILLIAM LOWNDES

Why does Winslow Hall dwarf the rest of the town? Why is there a vast open space in front of it? Why has Winslow got so many houses with a mixture of architectural styles from different centuries? Why are all the farmhouses hidden away in the fields?

This book tries to answer those questions, starting with Winslow in the 1640s when it was a town of small-scale farmers and craftsmen and had two visits from Oliver Cromwell. William Lowndes went off to London in 1667 and soon made enough money to start buying up land in Winslow and knocking down houses. He turned the town into a place where one family owned most of the land, and built a mansion in a style Winslow people had never seen. Meanwhile the Baptists became very influential for a time and built their own meeting house. Lowndes family money helped to create a town full of doctors and lawyers who modernised their houses, and the market and turnpike road provided business for inns and shops. The open fields were enclosed and farmers moved out into newly built farmhouses.

The book's 386 pages also include ten detailed studies of Winslow families and 28 photos and maps. It is available from the Bucks Archaeological Society (https://bas1.org.uk/) for £11 + £3.50 p&p. If you're in Winslow you can get it for £11 direct from David Noy (16 McLernon Way, tel.711683, d.noy@btinternet.com).
The Bucks Family History Society has published a transcription of the Winslow parish registers 1560-1901 on CD-ROM: click here to order
A transcription of the Winslow Congregational registers, with lists of members and abstracts of some minutes, is now available from the Eureka Partnership.
Winslow books for sale:
David Noy, Winslow in 1556: The Survey of the Manor (Bucks Archaeological Society, 2013): £5
David Noy, Winslow Manor Court Books 1327-1377 and 1423-1460 (2 vols, Bucks Record Society, 2011): £50
Alan Wigley, A Window on Winslow (Winslow, 1981): £5 - this contains many historical photos of Winslow
Please contact d.noy@btinternet.com for more information.
Additions to website
4 Aug 2021
27 Market Square: sale in 1893 after death of Grant King the owner
Winslow Town F.C.: 1893 AGM and results
Silver wedding celebrations for T.P. and Sarah Willis
Activities in 1893 at the Rose & Crown, Nag's Head, Brook Hall and by the Technical Education Committee
2 Aug
Fire insurance 1791-92 for 5 Vicarage Road, Arundel House, Redfield, various properties of Robert Gibbs, The Bank, Greyhound, Rose & Crown, property of William Blake, Blake House, The Bull
30 July
Winslow Parochial Schools: In 1890 the Charity Commissioners imposed new regulations which put the schools firmly under Anglican control
21 July
Fire insurance 1789 for 5 Horn Street and the Old George.
19 July
Vestry 1892: arguments about highways, lighting and the fire brigade
5 Horn Street: Winslow's first recorded lawn tennis tournament
The Bank: celebration of the opening and detailed description
Bucks County Council election, 1892: a Liberal split and a Conservative win
General election, 1892: better news for the Liberals
18 July
Lectures: you could study Shakespeare, chemistry, drawing and agriculture at evening classes in 1892
Oddfellows' Fete including a procession around the town
Girls' Friendly Society: service in the church and garden party at Redfield
Proposed new railway: Winslow wanted the Grand Central Railway (now part of the HS2 route) to go via Verney Junction
Provident Society: death of the secretary James Spooner (1892)
Workhouse: treatment of vagrants in 1892
17 July
Football: 1892 AGM and results
Opening of the Gymnasium (later the Public Hall)
Congregational church, 1892: cricket v the Baptists, football v Royal Latin School
27 High Street: Mrs Jones in trouble for not having a licence to keep a servant
Jones family: death of Silvanus' youngest son Davy, a professional musician
Death of Harriet, widow of T.B. Saving
16 July
Brook Hall: fire insurance policy in 1787, showing how the new owner James Burnham had gentrified it
The Bank: William Turner's insurance policy, 1788, showing the nature of the property before it was "Georgianised"
Redfield: insurance of Dudslow Farm by Thomas Read, 1788
Winslow Hall: advert for a footman, 1892
Western House: an extra storey added for Mr & Mrs Greaves
13 July
Inventory of Thomas Fyge, 1705: a wealthy London apothecary descended from a Winslow family
5 July
Jones family: William Jones became secretary to Beerbohm Tree in 1891 and wrote another play under the name Silvanus Dauncey
His friend George D. Day also put on a new one-act play
1891 Vestry: arguments about who was responsible for pavements and the Market Square
Technical education: a vote by every household showed that the most popular subject was agriculture and allotments. Drawing and agriculture classes were also available at the High School.
Reading Room: activities of the Parish Club in 1891
Workhouse: proposal to send paupers from Edmonton to Winslow
The Swan: proposed alterations
Cattle market: boys were working at the market instead of going to school in 1891
1 July
Board of Guardians: minutes Dec 1837
University Extension Lectures (started 1890) and an essay written for the course on European statesmen
Winslow Town F.C.: foundation in 1891 and results of their first matches
1891 North Bucks by-election: another Liberal win
29 June
Congregational Church: Mutual Improvement Society, 1891
Station: serious accident involving milk for the Creamery
The Bell: a course on butter-making backed by the British Dairy Institute, 1891
Church: a dig at the vicar by the churchwardens
Misfortunes of Thomas Simons, formerly of 14 Market Square
28 June
Board of Guardians: minutes Oct-Nov 1837
Schools Committee: in 1891 the committee was completely taken over by Anglicans
The George: Quadrille party ball until 4 a.m.
The Boot: landlady taken to Stone Asylum, 1891
Baptists: departure of Rev. G.T. Gillingham in 1891 with "nothing to show" for his time in Winslow
Station: improvements to the booking and ticket offices
21 June
Parish meetings 1948: decided to go ahead with the Recreation Ground
Parish meeting 1949: decided to update the War Memorial
19 June
Parish meetings 1947: problems with allotments and public conveniences
15 June
Parish meeting 1946: election of the parish council which later acquired the Recreation Ground for the town
13 June
Dr Newham (d.1890): sale of his furniture less than a month after he died
Winslow politics in 1890: the Conservatives were suddenly much more active than the Liberals
Cricket match between the Odd Fellows and Hearts of Oak
11-12 June
Cricket Club and Reading Room activities in 1890
Winslow High School: extensions and alterations
Church: new organ installed, 1890
Congregational Church: Sunday school festival, 1890
Charities: allotments provided at Shipton; accounts for 1890
Norden House: argument between Dr Vaisey and the Board of Guardians about the footpath to his new house
Quarter Sessions 1770-74: alleged cases included a husband assaulting his wife and a group of men committing riot and assault
10 June
Vestry, 1890: much controversy over James King's conduct as surveyor
Station Inn: more about the death of the landlord John Bennett in 1890
Station: new waiting rooms built on the "up" platform
Winslow Choral Society inaugurated at Brook Hall School in 1890; most of the committee were Anglican women
8 June
Complaint of hedge-breaking in Shipton, 1642
6 June
Will of Joan Forde: in 1647 Chancery ordered her executor to pay the legacies she bequeathed to the children of William Lowndes
Will of John Redding Holland of Aylesbury, grocer and tallow chandler, 1804 (proved 1805): owner of 1 Horn Street
2 June
Obituary and will of Lt-Col. William Selby-Lowndes of Tinker's Corner, 1951
31 May
Will of Thomas Dawney of Aylesbury, gentleman, 1815 (proved 1816): a Baptist who was buried in Winslow and helped set up the Baptist chapel at Swanbourne
27 May
Vestry, 1889: arguments about the charities and cleaning the Market Square
20 May
Proposed School Board, 1889: a hotly contested vote was heavily influenced by the vicar
North Buckinghamshire By-Election, 1889: this seems to have aroused less feeling at Winslow
The Bell: Winslow Volunteers' prize shooting and dinner, 1889
19 May
Baptist Tabernacle: a change of pastor in 1889
Crowning the Queen of the May: an Anglican response to Congregationalist use of this ceremony, 1889
Church: departure of Rev. Hamilton Douglas-Hamilton in 1889
Cricket Club: ended the 1889 season successfully despite the vicar's withdrawal of support
Winslow High School: ran a football team which played "Winslow Town" (not an organised club at the time)
5th November was celebrated in Winslow as "Mask Day"
Will of George Willmore, farmer, 1888 (proved 1889): he lived at 32 Sheep Street

17 May
Parishioners' meeting 1924: S.P. Wigley's attempts to bring electricity and water supplies to Winslow
Board of Guardians minutes, Sep 1837: The workhouse acquired new gates, and Joseph Neal got the contract for supplying liquor
William Robyns, butcher, was pursued in 1485 in the Court of Common Pleas for a debt of 6 marks
16 May
More information about Richard Edmunds (d.1605)
Board of Guardians minutes, June 1837: payment of numerous bills
Bucks County Council election: some additional reports from early 1889
The George: a ball for 70 guests
The Black Horse: celebration of the completion of T.P. Willis' new offices (28 High Street)
Church: decision to build new chancel aisle and vestry, 1889
Salvation Army: first anniversary in Winslow
Winslow High School: technical education in 1889
Cricket Club: a big argument with the vicar in 1889
9 May
6 High Street: sold to J.G. Hawley in 1869 by his uncle's executors
Board of Guardians minutes, May 1837: the master and matron of the workhouse were suspended
6 May
Board of Guardians minutes, March 1837: including beer and coffins for the paupers
3 May
Winslow's first election for Bucks County Council (1889): it was decided by four votes, and a stag and a cat became involved
1 May
Vestry, 1873: plans for the new Infants' School due to a dispute with the vicar
Vestry, 1876: G.D.E. Wigley refused to serve as Guardian
Obituary of Henry Wigley (d.1888), "intellectual Liberal", and sale of property
Bankruptcy of George Grace Lee, saddler at 4 High Street
30 April
Vestry, 1872: arrangements about churchyard fence and church clock
Liberals: infighting in 1888 between W.H. French and other activists
Juvenile Oddfellows Festival: including cricket, music and dancing
Flower Show: accounts for 1888
The Bull: meeting of the Winslow bakers, who apparently operated a cartel
The Bell: masquerade held by the dancing class
29 April
Will of Elizabeth Victoria George, spinster, 1911 (proved 1912): stationer at 34 High Street
Will of George Baldwin, gentleman, 1903 (proved 1905): retired draper, lived at 13 Market Square
Congregational Church: activities in 1888
Baptist Tabernacle: departure of Edmund Buckingham and his daughter for America
Nag's Head: caught out by a policeman outside the window
Church Sunday School: celebration of 100th anniversary in 1888
Flower Show: a new secretary in 1888
Reading Room: a cricket club was re-formed, open to Reading Room members and non-members
A new play by W.J. Jones (Silvanus Dauncey), younger brother of the more famous H.A. Jones
High School: a report showing the syllabus in 1888
27-28 April
Exhibition of Local Antiquities and Curiosities, 1888: dozens of people lent their family heirlooms
Salvation Army: more information about their activities in 1888
Rose & Crown: advert for the brewery, 1888
26 April
Will of George James Starkey, gentleman, 1886 (proved 1887)
Will of Catherine Carling, spinster, 1886 (proved 1898)
20 April
Will of William Selby-Lowndes of Whaddon Hall, esquire, 1884 (proved 1887): also an obituary and report of his funeral
Will of William Hutt, grocer, 1869: kept a shop in the Market Square
New page: 1A & 3 Horn Street (Old Millfield House) and 4 The Walk
17 April
Manor court, 1525: list of jurors, and some entries concerning Little Horwood
15 April
1870 Vestry: discussions about the infants' school, fire engine and water supply
1871 Vestry: the water supply again
10 April
Market Square: made available again for fairs and circuses in 1887
Conservative meeting at The George; one of the participants fell down the stairs
Obituary for Neddy Pickett (d.1887)
A war of words about Daniel Grace in the Buckingham Advertiser
Redfield: 1891 Census lists 57 people in the house and on the estate
8 April
New page: George D. Day (1872-1911): from trainee auctioneer at Wigley's to a theatrical manager whose wedding was attended by J.M. Barrie and Rider Haggard
Charities: Liberal Brotherhood meeting in 1887 with some not entirely accurate information
Accident involving W.H. French and a stepladder
Schools: a new controversy about whether they should take children residing at the Workhouse
John Grace: a case brought by his executors in 1887 on behalf of "a widow who was very poorly off"
Church: memorial window for Edward Selby-Lowndes
Outbreak of swine fever
6-7 April
Will of Richard Baldwin, gentleman of Tingewick, formerly of Winslow, 1861: formerly of The Bull and 3 Horn Street
Will of William George, grocer and stationer, 1886: his shop was at 34 High Street
Obituary for Mary Morgan, d.1887 aged 90
May Day 1887: no sweeps
5 Horn Street: sale of William Selby-Lowndes' furniture after he moved to Whaddon Hall
Queen Victoria's Jubilee: detailed description of the celebrations including how the houses were decorated; there was also a suggestion for celebrating the Jubilee by improving the pavements and roads and renaming Horn Street
Election for assistant overseer: A Liberal success in getting an election called and in winning it
United Schools: the 1887 subscribers' meeting touched on some controversies in the local press, including one about the Rogers School Trust which was brought up by the Liberals
Allotments: some new ones established after Liberal agitation
5 April
Churchyard: removal of the fence and erection of four gates, 1887 (with a plan)
Redfield: an invitation ball and a servants' ball at the new house
King's Head: to let in 1887 after being run for 24 years by Frederick Roads
Parish Reading Room: smoking concert at The Bell, showing that it was now run by Anglicans
Vestry, 1887: churchwarden's accounts included "bath chair for parish"
Congregational Church: Young Men's Society soiree
New gasometer, 1887
The curfew bell
2 April
New page: 1 Horn Street (Illing's): a grocer's shop for more than two centuries
30-31 March
Will of Agnes Anna French of Winslow, spinster, 1888 (proved 1902): died in an asylum at Salisbury
Vestry, 1867: discussion about a bridge on the road to Addington
Vestry, 1869: business included vandalism and repairs to the church, telegraph poles and the fire engine
27-28 March
Red Hall Farm: Retirement sale of Thomas Woodward, 1886
W.J. Jones: sale of his farm stock at Mill Knob
Market Square: Christmas Fat Stock Show (the beginning of a long tradition)
Football: matches against Wolverton Apprentices and Stony Stratford, playing a form of rugby
General Election, 1886: this time the Conservatives narrowly beat the disunited Liberals in North Bucks; events in Winslow were less heated than in 1885
Controversy involving the vicar, 1886: he was attacked and defended in the local press
Baptist Tabernacle: anniversary celebrations in 1886 with a political speech by W.H. French
Church Defence Society meeting in 1881
Workhouse: Walter Lorkin's experience of the tramps' ward in 1906
Gibbs family: article by Arthur Clear about Rev. John Gibbs of Newport Pagnell, a nonconformist contemporary of Benjamin Keach
26 March
Provident Society: an unusual speech by Mr Monk at the 1886 festival
The Church Army held services until June 1886
Death of Caroline French, wife of W.H. French and sister of G.D.E. Wigley
G.D.E. Wigley started the annual Sheep Fair in September 1886
Railway: a day excursion to Liverpool
Rose & Crown: sale of William Grace's stock-in-trade on his retirement, 1886
The Bell: retirement of William Neal in favour of his newly married son
The Classical and Commercial School was re-opened by William Warne
Festivities on a wet Whit Monday organised by the Odd Fellows and the Baptists
24-25 March
Hand in Hand Benefit Society: dissolved in 1886
Liberal activities in early 1886 involving W.H. French
J.C. Hawley took over the grocery and spirits part of William George's business
United Schools: annual meeting in 1886
Literary Institute: Winslow's most unsectarian organisation closed down, to be replaced by the Parish Reading Room under the vicar's control
Nag's Head: a theft and a sale
The Bull: services of a bonesetter advertised
Redfield: temporarily known as Winslow Court, with its own cricket team in 1886 while it was being rebuilt
Mr Neal complains about people sub-letting their allotments
23 March
Keach's Meeting House: transfer to new trustees in 1866
Vestry, 1865: decisions about pavements and drains
Vestry, 1866: trouble with the Charity Commissioners and Poor Law Board

18 March
Will of Erasmus Grove of Tingewick, yeoman, 1684: father-in-law of Benjamin Keach
16 March
13-15 Vicarage Road: new information about the ownership of the original cottages on the site
North Buckinghamshire Election, 1885: democracy (of sorts) comes to Winslow, culminating in an attempt to storm The Bell
W.H. French denounces the vicar in a poem
15 March
Will of John Turnham, baker, 1893 (proved 1894): lived at 8-10 Horn Street
John Grace (d.1885): obituary and sale of his farming stock
Literary Institute: athletic club dance
Redfield: sale of Selby Lodge estate to H.R. Lambton, 1885
Church bells: rehung in 1885
Death of Alfred White, bailiff to T.P. Willis
14 March
School Board debate: new information about the arguments in 1885
Literary Institute annual meeting for 1885: this was now the most non-denominational organisation in Winslow
Will of James East, retired outfitter, 1901: prominent Winslow figure who fell under a train at Swanbourne
13 March
The George: The dancing class held a ball in 1885
The Bell: lecture on Russia by Egerton Hubbard of Addington (whose family lost their Russian investments in 1917); concert and tableaux vivants in aid of the Church Restoration Fund
27 Market Square: bankruptcy of Thomas Sare, 1885
Brook Hall School: new summer holiday arrangements
Redfield: Obituary for Edward Selby-Lowndes, 1885
Baptist Tabernacle: arrival of the new pastor, Rev. J.S. Poulton
Vestry, 1885: the main issues were keeping cattle out of the churchyard and replacing the old iron fence
11 March
Windmill Inn: sale of wheelwright's business, 1885
Nag's Head: hunting boxes to let
Estate of George Maydon: sales of property and furniture
Church Room: activities in the 1950s
Whitsun fete, 1932
10 March
Will of Joshua Lewin French of Winslow, gentleman, 1883 (proved 1884): active Congregationalist, grocer at 1 Horn Street
Will of Mary Ann Warr, spinster, 1872 (proved 1884): from a North Bucks farming family
2-3 March
Will of Thomas Selby-Lowndes of Winslow, esquire, 1884 (proved 1885): retired army captain who lived at The Bank before it was rebuilt
Will of Charles Ernest West of Winslow, gentleman, 1877 (proved 1884): descendant of the family which ran the Greyhound Lane tannery
6 High Street: added drawing of Hawley's shop, allegedly founded in 1761