Farms
Medieval Winslow was an intensely arable landscape, with very little meadow or pasture and no significant woodland. There were three huge open fields (and three more in Shipton), divided into furlongs, which were divided into ridges and furrows. This was still the case when the Fortescue Map was produced in 1599. Many of the furlongs in Shipton are listed in a document of 1633. A document listing a holding of at least 90 acres from c.1635 shows how scattered and unconsolidated individual pieces of land still were at that date, although it shows the start of a trend away from arable farming. Some indication of the range of crops grown can be seen in this retirement agreement of 1345:
And there is a condition that the aforesaid Agnes, daughter of John Mayn, will pay annually to the aforementioned Geoffrey May between Michaelmas and Martinmas, for the term of Geoffrey's life, 5 quarters of grain with one bushel of oats: namely, one and a half quarters of wheat, one and a half quarters of barley and 2 quarters of beans and peas of the better crop growing on the aforesaid land.
This shows that, although the principle of the three field system is usually stated to be one field for wheat, one for another crop and one fallow, in practice the cropping system was considerably more complex.
After Enclosure, there was a complete change (although the trend probably began earlier). Rev. St.John Priest, A General View of Agriculture in Buckinghamshire (1813), p.372 records the acreage in Winslow as:
Meadow 719

Pasture 1459

Arable 300

And describes the effects (p.414) as "Cows, butter, and fat hogs, increased; sheep decreased; grain of all kind decreased". Dairy-farming now predominated, and this remained the case until the Second World War, when some of the meadow and pasture was ploughed up. Nevertheless, the amount of surviving ridge-and-furrow all around Winslow shows the limits of the arable revival, although much of it has now been lost to housing.

According to Priest there were 12 farmhouses in Winslow at the time of his survey. These probably include Blake House, the eight farms recorded in 1841 (see below), the house which subsequently became Sunny Lawn House, and two other houses in Horn Street, Sheep Street or Shipton.

In the 1841 census, these farms are listed by name:

Heighton's (William Matthews, excise officer; this was near Great Horwood Road, and bought by William Selby Lowndes from Edmund Heighton in 1865 and added to Redfield - Centre for Bucks Studies, AR28/90)
Magpie (William Alderman, labourer)
Mobbs's (John Burrell, labourer; this was formerly Dudlow and later Redfield)
Red Hall (John Woodward)
Shipton (John Bull) - this is called Bridge Farm and Whitehouse Farm on earlier maps
Tuckey (Samuel Cole)

Rands Farm (Thomas Edwin) and Curtis's Farm (John Curtis; now 47 Sheep Street) can also be identified. Two farmers had houses on the north side of Horn Street (Charles Monk, Robert Jones), and three more were listed in Shipton (Joseph Bowden, William Archer, Thomas Burgess) - these houses were not necessarily used as farmhouses.

See the following links for information about some of the farms:
This poem, written by W.N. Midgley in 1878, gives some idea of what people were saying during the Victorian agricultural depression. The author didn't have any personal connection with farming.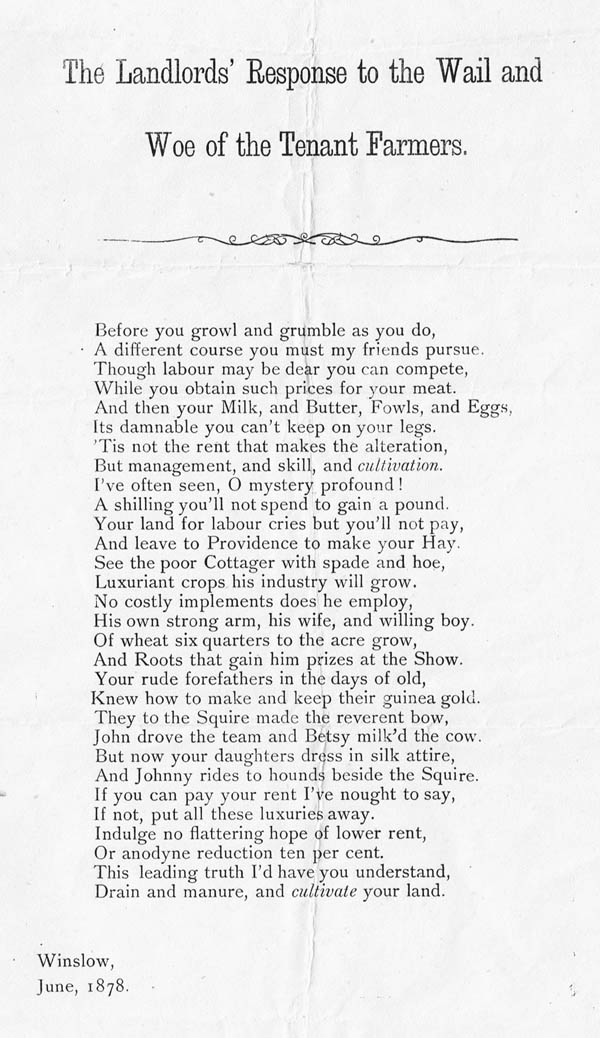 Copyright 4 January, 2013