William Goodman (1835-1904)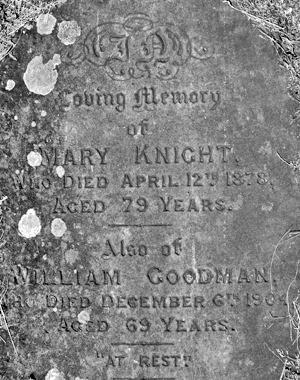 William Goodman was born in 1834 at Twyford, Leics (son of Thomas and Sarah Maria). It's not known if he was connected to the Goodman family who had lived in Winslow since the 18th century, but probably not as his father and grandfather were born in Leics according to the 1841 census. He lived in Melton Mowbray in 1871 (recorded as a groom, wife's name Elizabeth, b. Seagrave, Leics) but he was in Winslow in 1881, when he kept the Chandos Arms . He must have arrived by 1878, when Mary Knight, who is commemorated on the same tombstone and was probably his mother-in-law, died.
William and Elizabeth had no children but a niece, Emily Eliza Benskin Knight, lived with them until she married Mark Cox, a Winslow butcher, in 1897 (they moved to Hanworth). The Goodmans moved to the Crooked Billet by 1887, where William was listed as "aërated and mineral water manufacturer", and then to the Royal Oak in 1898, with the same description.
William died in 1904 aged 69, and in 1911 his widow Elizabeth was living in Chesham with another niece and her husband. She died in 1912 aged 78.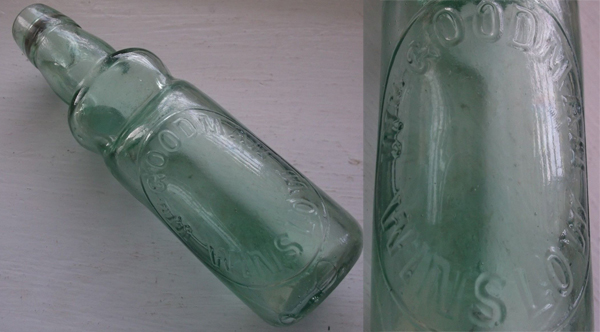 This bottle marked with William Goodman's name is the sort with a marble in the neck known as a Codd bottle, patented in 1870; this is a 6 oz. one. It was made by John Kilner of Wakefield (famous for Kilner jars) and has a mark used until 1900. Bottling mineral water was a significant enterprise in Leics, and William must have brought the idea to Winslow with him.
---
Back to Families / People