The Wilmore (Willmore) family
Ann Tracy Marr has provided a detailed study of the Wilmore family of Winslow and Shipton from the late 18th to early 20th centuries. Members include:
Richard Wilmore, labourer, 1782-?1848, married in London
His daughter Anne Wilmore, 1808-1858, who married William Hawkins of Winslow and emigrated to the USA
His son John Wilmore, 1810-before 1871, married 3 times
His son Richard Wilmore, 1812-1883, lived at Shipton (see his will)
His son George Willmore, 1819-1889, married Eliza Jennings of East Claydon (see below; see his will)
His daughter Mary Willmore, 1822-1893, emigrated to Australia
The younger Richard's daughter Hannah Wilmore, c.1835-1876, married Henry James Stevens, originally from Swansea, and emigrated to Australia
Her brother William Wilmore, b.c.1841, threshing engineer, married Jane Bowden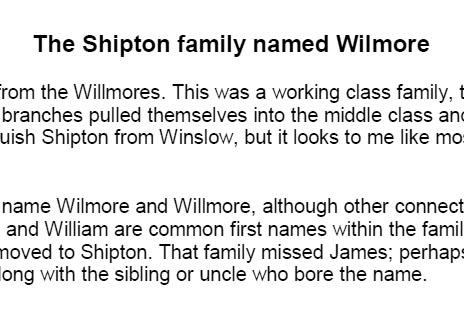 Click on the image to read the full report (PDF file, 90 KB)
The obituary of George Wilmore (no.6 in the report) was published in the Bucks Herald, 24 Aug 1889:
WINSLOW
OBITUARY – The interment of Mr. George Wilmore, dairyman, who died at Winslow on August 13th, took place in the Parish Churchyard on Saturday last. Deceased was a general favourite on account of the straightforwardness of his character as well as his genial and good humoured disposition. He had been ill for some weeks.
---
Back to Families / People