1841 Census: District 3
The enumerator began with what is now The Walk (Hanging Stile), then the east side of Granborough Road, south side of Horn Street, Bell Alley, south side of Sheep Street, and Shipton south and west of the turnpike. See 1841 Census introduction for more information.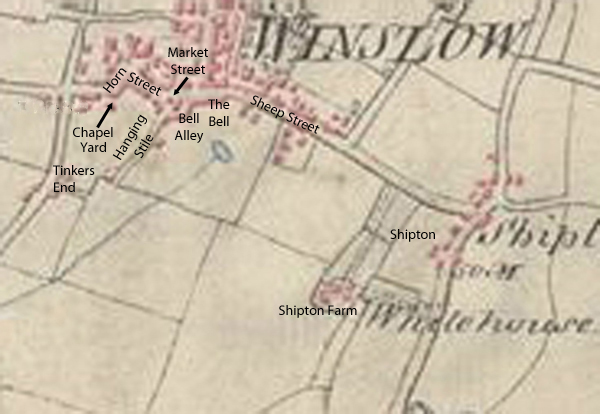 The map is an 1813 Ordnance Survey drawing held by the British Library, used under Open Government Licence v.1.0.
Click on the names on the map to go to the relevant place in the census return.
Words in italics are editorial notes.
Address
First name
Surname
Age (m)
Age (f)
Employment
Born in county?
Hanging Stile
Lawn House
John
Cowley
60
Surgeon
Y
George
Cowley
30
Surgeon
Y
Sarah Eagles
Bowler
35
Y
William Harris
Bowler
7
N
Charlotte Eliza
Kelland
30
Y
Charles Theophilus
Kelland
5
Y
Christopher John Cowley
Kelland
1
N
William Nelson
Irwin
25
Surgeon
N
Mary
Kibble
25
Female Servant
Y
Caroline
Griffin
25
Female Servant
Y
Susan
Brasy
20
Female Servant
Y
George
Roads
15
Male Servant
Y
The Walk
Elizabeth
Cockerill
55
N
Martha
Cockerill
20
Y
Samuel
Cockerill
15
Agricultural Labourer
Y
Hannah
Tomes
70
Y
George
Tomes
15
Agricultural Labourer
Y
William
Tomes
30
Agricultural Labourer
Y
Elizabeth
Tomes
30
Lace Maker
Y
Sarah
Tomes
6 months
Y
Richard
Willmore
55
Agricultural Labourer
Y
Sarah
Willmore
50
Y
George
Willmore
20
Agricultural Labourer
Y
Susan
Willmore
15
Y
Sarah
Willmore
5
Y
Tinkers End
William
Bates Sen
50
Tanner
Y
Sarah C
Bates
50
Y
William
Bates Jr
20
Labourer
Y
Ann
Bates
20
Y
George
Bates
3
Y
William Henry
Bates
1
Y
Daniel
Holt
60
Agricultural Labourer
Y
Elizabeth
Holt
60
Y
Eliza
Holt
5
Y
Moses
Yeates
70
Agricultural Labourer
Y
George
Holt
35
Agricultural Labourer
N
Elizabeth
Holt
30
Y
Henry
Holt
70
Y
Mary Ann
Holt
5
Y
Robert
Holt
5
Y
Fanny
Holt
3
Y
George
Walker
25
Agricultural Labourer
Y
Ann
Walker
25
Y
George
Walker
6 months
Y
William
Keys
30
Cordwainer
Y
Ann
Keys
35
Y
George
Redding
45
Agricultural Labourer
Y
Ann
Redding
40
Lace Maker
Y
Ann
Redding
15
Y
Joseph
Redding
10
Y
George
Redding
5
Y
Sarah
Redding
4
Y
The Boot
James
Tuckey
60
Publican
Y
Sarah
Tuckey
45
Y
Samuel
McDowell
34
Printer
Scotland
John
Ward
25
Blacksmith
Y
Great Horn Street
James
Warner
35
Gardener
Y
Mary
Warner
40
Y
James
Warner
15
Agricultural Labourer
Y
Thomas
Warner
15
Agricultural Labourer
Y
Mary Ann
Warner
10
Y
Charlotte
Warner
5
Y
John
Warner
5
Y
George
Warner
4
Y
Sarah
Warner
1
Y
William
Grubb
55
Agricultural Labourer
Y
Fanny
Grubb
60
Lace School
Y
William
Grubb Jr
20
Agricultural Labourer
Y
Ann
Grubb
20
Y
Hannah
Grubb
1
Y
Fanny
Grace
10
Y
Blake House / Tinkers Corner?
George
Hinde
38
Minister
N
Mary Ann
Hinde
38
N
Harriett Elizabeth?
Hinde
10
N
Lucy Ann
Hinde
6
N
Rachel
Reid
27
Female Servant
Y
19-21 Horn Street and two demolished houses where the entrance to Old Tanyard Close is now; one evidently not recorded
Oliver
Mayne
65
Butcher
Y
Rosamond
Mayne
65
N
Harriett
Mayne
35
Y
William
Matthews
53
Carpenter Joiner
Y
Mary
Matthews
55
Y
Sarah
Matthews
23
Dress Maker
Y
William
Matthews
18
Carpenter Joiner
Y
Elizabeth
Matthews
13
Dress Maker
Y
John
Grace
20
Carpenter Apprentice
Y
Willis
Hall
15
Carpenter
Apprentice
Y
William
Turnham
50
Butcher
Y
Frances
Turnham
50
Y
John
Turnham
20
Butcher
Y
Frances
Turnham
5
Y
Lace Cottage? (17 Horn St)
Elizabeth
Bowden
60
Lace maker
Y
The following houses were on the site of the later Congregational Church
William
Jennings
30
Butcher
Y
Emma
Jennings
30
Y
William
Walker
40
Agricultural Labourer
Y
Elizabeth
Walker
40
Y
Joseph
Gibbs
65
Agricultural Labourer
Y
Chapel Yard
George
Walker
30
Agricultural Labourer
Y
Sarah
Walker
20
Y
W. le [sic, = David]
Walker
1 day
Y
Caroline
Walker
15
Y
James
Walker
60
Pensioner
Y
Thomas
Elliott
25
Agricultural Labourer
Y
Pennia
Elliott
25
Y
Great Horn Street
The Manse (9 Horn St)
Ann
Bowler
45
Independent means
Y
Ann
Hazzard
75
Independent means
Y
Crooked Billet (7 Horn St)
Will(ia)m John
Jones
20
Victualler
Y
Ann
Jones
20
Y
The following houses must have been incorporated into or replaced by what later became The Cottage (5 Horn St)
John
Willmore
30
Agricultural Labourer
Y
Mary
Willmore
30
Straw Bonnet Maker
Y
Mary
Willmore
7
Y
Stacey
Willmore
4
Y
Eliza
Willmore
2
Y
Benjamin
Gough
20
Malster
Y
Rebecca
Gough
20
Lace Manufacturer
Y
Alfred
Gough
11 months
Y
Thomas
Mayne
70
Saddler
Y
John
Hazzard
35
Agricultural Labourer
Y
Alice
Hazzard
35
Schoolmistress
Y
John
Cox
105
Independent means
Y
Phillis
Cox
55
Female Servant
Y
Gt Horn Street
Eliza
Higgs
15
Y
John
King
60
Land Surveyor
Y
Martha
King
50
Y
Ann
King
25
Y
John
King
20
Y
Charlotte
King
20
Y
James
King
15
Y
Thomas
King
15
Y
Charles
King
12
Y
Stacey
Keys
30
Butcher
Y
Ann
Keys
28
Dress maker
N
Jane
Keys
2
Y
Marie
Keys
9 months
Y
Thomas
Weston
16
Butcher Apprentice
Y
William
Hawkins
30
Agricultural Labourer
Y
Ann
Hawkins
30
Y
Elizabeth
Hawkins
1
Y
Mary
Hawkins
1 month
Y

Some of the following houses can be identified on the 1880 map below, but the layout of The Walk, Bell Walk and 3 Market Square changed between 1841 and 1880. Click on the red names to go to the relevant census entry.


3 Horn St
Richard
Baldwin
45
Baker
N
Mary
Baldwin
45
N
Sarah
Baldwin
20
N
Mary
Baldwin
20
N
Leonard
Baldwin
15
N
Augustine
Baldwin
10
Y
Gt Horn Street
Ellen
Baldwin
10
Y
Jesse Richard
Baldwin
5
Y
Amelia Jane
Baldwin
5
Y
Claria Love
Baldwin
1
Y
William
Howard
25
Farmer
N
Ann
Howard
25
N
Jemima
Starkey
25
N
1 Horn St
Joshua L.
French
30
Grocer Ironmonger
Y
Elijah W.
French
20
Grocer Shopman
Y
William
Chick
30
Shopman
N
George
Temple
15
Male Servant
N
Sarah
Ward
25
Female Servant
Y
The following houses include the ones which are now called Bell Walk
Ann
Lamborne
60
Independent means
Y
Johanna
Lamborne
25
Milliner
Y
She also kept a Library according to Pigot's Directory 1842
William
Verney
25
Agricultural Labourer
Y
Mary
Verney
20
Lace Maker
Y
Elizabeth
Turney
70
Independent means
Y
William
Turner
65
Agricultural Labourer
Y
Mary
Turner
65
Y
Thomas
Roads
50
Joiner
Y
Sarah
Roads
45
Y
John
Roads
25
Joiner
Y
William
Roads
20
Joiner
Y
Sarah
Roads
20
Y
Gt Horn Street
Elizabeth
Roads
15
Y
Henry
Roads
13
Y
Alfred
Roads
11
Y
Sarah
Turner
65
Y
Jane
Webb
12
Y
1-3 Bell Walk? (former Rogers Free School)
George
Grace
40
Schoolmaster
Y
Charlotte
Grace
45
N
George
Grace
19
Shoemaker Apprentice
Y
Thomas
Grace
4
Y
Robert
Clifton
13
Y
John
Corbett
40
Agricultural Labourer
Y
Mary
Corbett
40
Y
William
Hallett
25
Plasterer
N
Thomas
Dickens
1
Y
Sarah
Cole
45
Independent means
N
Benjamin
Cole
13
Y
Mary Ann
Cole
10
Y
William
Judge
40
Labourer
Y
Rebecca
Judge
20
Y
Sarah
Sinfield
50
Independent means
N
John
Craker
43
Tailor
Y
Frances
Craker
37
Y
Charles
Craker
9
Y
Constantine
Craker
7
Y
Gt Horn Street
Catherine
Craker
5
Y
Clement Elizabeth
Craker
2
Y
Christopher J
Craker
4 months
Y
Bell Alley
James
Willmore
22
Agricultural Labourer
Y
Mary Ann
Willmore
25
Y
Gt Horn Street
John
Harding
54
Book-keeper
Y
Alice
Harding
52
Dress Maker
Y
Mary
Blick
14
Y
Maria
Blick
11
Y
William
Blake
25
Police Officer
Y
Jane
Blake
25
N
Joseph
Blake
1
Y
Joseph
Grace
46
Blacksmith
Y
Elizabeth
Grace
40
Y
William
Grace
20
Y
Ann
Grace
13
Y
Maria
Grace
10
Y
George
Grace
7
Y
Mildred
Grace
5
Y
John
Grace
3
Y
Mary
Grace
1
Y
Post Office
George
Mayne
50
Post Master & Malster
Y
Part of 5 Market Sq
Ann
Mayne
50
Y
Matilda
Mayne
20
Y
Richard
Mayne
17
Y
Elizabeth
Mayne
10
Y
Market Street
Part of 5 Market Sq
John
Bathe
30
Tailor
Y
Mary
Bathe
35
N
Eliza
Bathe
6
Y
George
Bathe
8 months
Y
Thomas
Read
13
Y
John
Read
11
Y
Richard
Grantham
15
Tailor Apprentice
Y
Part of 3 Market Sq
Emmanuel
Roads
45
Cordwainer
Y
Pigot's Directory 1842 lists him as a Hairdresser and Beer Retailer
Dinah
Roads
35
Y
Elizabeth Ann
Roads
15
Dress maker
Y
James
Colson
20
Cordwainer Journeyman
Y
John
Simmons
24
Hair dresser
N
Herriatt [sic]
Simmons
23
N
Mary
Simmons
2
Y
Harry
Simmons
11 months
Y
Thomas
Simmons
14
Inmate
N
Site of 3 Market Sq
Henry Rook
West
30
Saddler
Y
Maria
West
35
N
Will(ia)m Hurley
West
7
N
Maria Elizabeth
West
4
Y
Thomas
Smith
19
Saddler apprentice
Y
Maria
Hurley
60
Independent means
N
Bell Alley
Mark
Bunce
40
Cordwainer
Y
all now demolished or incorporated into 3 Market Sq or the Old Forge
Ann
Bunce
40
Y
William
Bunce
20
Y
George
Bunce
15
Y
Frederick
Bunce
15
Y
Elizabeth
Bunce
10
Y
Thomas
Orchard
25
Agricultural Labourer
Y
Susanna
Orchard
25
N
William
Orchard
7
Y
John
Orchard
5
Y
Lucy
Orchard
2
Y
Mary
King
70
Independent means
Y
Mary
Nicholls
60
Y
William
Warr
50
Agricultural Labourer
Y
Rosehannah
Warr
50
N
Mary
Warr
15
Y
Elizabeth
Warr
7
N
Thomas
White
24
Agricultural Labourer
Y
Elizabeth
White
23
Y
Catherine Maria
White
3 months
Y
Richard
Prentice
50
Agricultural Labourer
Y
Rebecca
Prentice
55
N
Elizabeth
Prentice
20
Y
Ann
Prentice
15
Y
Bell Alley
William
Warr Junior
20
Agricultural Labourer
Y
Mary
Warr
20
Y
Emma
White
2
Y
Bell Inn
Joseph
Neal
50
Innkeeper
Y
Rosetta
Neal
30
Y
William
Neal
25
Farmer
Y
Sarah
Neal
15
Y
Joseph
Neal
14
Y
Fanny
Neal
13
Y
Frederick
Neal
7
Y
Ann
Markham
20
Female Servant
N
Catharine
Simmonds
35
Female Servant
Y
Philip
Verney
12
Male Servant
Y
George
Neal
25
Ostler
Y
Richard
Neal
30
Colt Breaker
Y
John
Stoll
35
Woollen Manufacturer
N
George
Grizzel
25
Malster
N
Sheep Street
Mary
Jackman
65
Y
Edward
Jackman
20
Blacksmith
Y
Henry
Jackman
15
Agricultural Labourer
Y
George
Roads
35
Carpenter
Y
Susanna
Roads
40
Y
Frederick
Roads
10
Y
Maria
Roads
4
Y
Sheep Street
George
Roads
2
Y
Charles
Roads
1 week
Y
John
Mayne
20
Joiner
Y
Will(ia)m
Teagle
35
Agricultural Labourer
Y
Sarah
Teagle
35
Y
Joseph
Teagle
12
Y
Ann
Teagle
9
Y
Fanny
Teagle
2
Y
Will(ia)m
French
50
Agricultural Labourer
Y
Ann
French
55
Y
Elizabeth
Eden
80
Lace Maker
Y
Eliza
French
15
Y
Hannah M
French
11
Y
Most of the following houses were probably in Tennis Lane
Sam(ue)l
Warner
40
Mason
Y
Sarah
Warner
50
Lace School
Y
John
Warner
20
Agricultural Labourer
Y
Rebecca
Warner
20
Y
Thomas
Goodger
65
Agricultural Labourer
Y
William
Goodger
25
Groom
Y
Martha
Goodger
30
Y
Eliza
Goodger
6
Y
Ellen
Goodger
5
Y
Th(oma)s Will(ia)m
Goodger
2
Y
Ann
Goodger
7 months
Y
Sheep Street
John
Benbow
35
Agricultural Labourer
Y
Mary
Benbow
40
Y
John
Benbow
15
Shoemaker Apprentice
Y
Frederick
Benbow
9
Y
William
Benbow
4
Y
Thomas
Yeates
40
Agricultural Labourer
Y
Mary
Yeates
40
Y
Catharine
Yeates
15
Y
David
Yeates
15
Agricultural Labourer
Y
Samuel
Yeates
14
Y
Elizabeth
Yeates
9
Y
John
Yeates
3
Y
Mary
Yeates
4 months
Y
Joseph
Yeates
12
Y
George
Verney
50
Agricultural Labourer
Y
Frances
Verney
45
Y
Ann
Verney
20
Y
Robert
Verney
15
Agricultural Labourer
Y
Frances
Verney
10
Y
Richard
Verney
4
Y
Thomas
Read
60
Agricultural Labourer
Y
Mary
Read
55
Mantua Maker
Y
Rebecca
Judge
30
Lace Maker
Y
Will(ia)m
Judge
10
Y
Sheep Street
Charlotte
Warner
15
Lace Maker
Y
Yew Tree Cottage?
Mary
Bowler
60
Independent means
Y
Judith
Scott
20
Female servant
Y
32 Sheep St.?
John
Abbott
60
Apparitor [parish clerk]
Y
Anna Maria
Abbott
50
Y
Sarah
Abbott
15
Y
Will(ia)m H(enr)y
Abbott
10
Y
Maria
Abbott
5
Y
34 Sheep St.?
Will(ia)m
Neal
45
Ostler
Y
Jane
Neal
55
Y
Rebecca
Neal
20
Y
Mary
Neal
15
Y
Joseph
Saving
30
Labourer
Y
Jane
Saving
20
Y
Mildred
Saving
2
Y
Shipton
Will(ia)m
Deverell
74
Agricultural Labourer
Y
These houses were to the west of the main road, now demolished
Charlotte
Deverell
66
Y
Henry
Saving
30
Agricultural Labourer
Y
Ann
Saving
27
Y
Amelia
Saving
10
Y
William
Saving
8
Y
Joseph
Saving
3
Y
Charlotte
Saving
7 months
Y
Sam(ue)l
Spooner
50
Agricultural Labourer
Y
Susanna
Spooner
45
Y
Martha
Spooner
25
Y
Charlotte
Spooner
14
Y
Elizabeth
Elliott
70
Laundress
Y
Catherine
Elliott
20
Lace Maker
Y
Benjamin
Eagleton
5
Y
Robert
Eden
30
Carpenter
Y
George
Eden
9
Y
Sarah
Eden
8
Y
Elizabeth
Bryant
77
N
Elizabeth
Dodson
63
Lacemaker
Y
Charles
Spooner
30
Agricultural Labourer
Y
Pheobe [sic]
Spooner
30
Lace Maker
Y
George
Spooner
12
Y
Sarah
Spooner
8
Y
Elizabeth
Spooner
5
Y
Robert
Spooner
2
Y
Charles
Spooner
6 months
Y
Mary
Spooner
50
Y
Will(ia)m
Alderman
45
Agricultural Labourer
Y
Ann
Alderman
40
Y
Ann
Alderman
20
Y
Mary
Alderman
15
Y
John
Alderman
12
Y
Shipton
Martha
Alderman
9
Y
James
Alderman
6
Y
John
Alderman
2 months
Y
Will(ia)m
Viccars
45
Agricultural Labourer
Y
Elizabeth
Viccars
45
Y
John Gregory
Viccars
14
Y
Edward
Viccars
11
Y
Richard
Viccars
6
Y
George
Viccars
2
Y
John
Goodger
44
Brewer
Y
Sarah
Goodger
50
N
Mary
Goodger
13
Y
Shipton Farm
John
Bull
55
Farmer
Y
Susannah
Bull
60
Y
Susannah
Franklin
15
Y
Elizabeth
Woodward
35
Female Servant
Y
James
Evans
15
Male Servant
Y