Ezra Braggins, Silk Merchant and Draper (1844-1912)
by Ed Grimsdale
Ezra Braggins was born on 14 Oct 1844 in Steeple Claydon. By 1851, the family had moved to Winslow. Perhaps, his family felt uncomfortable in Steeple Claydon because a Miss Braggins, who also lived there and was probably the niece of Ezra's father, had been accused in 1838 of killing her illegitimate child – village rumours suggested that its death had been unnatural. Her parents had been ignorant of her condition "until two hours before her confinement". Eventually, the jury found that the baby had died of natural causes yet the Coroner, Mr. J.W. Cowley of Winslow, gave Miss Braggins a severe reprimand. In April 1847, Elizabeth Braggins charged John Perkins with being the father of her living illegitimate child. Perkins did not deny it and the Buckingham Court levied a charge of affiliation on him for 1s 6d a week. Furthermore, in 1850, John Perkins was convicted of assaulting Elizabeth Perkins in Steeple Claydon.
Ezra's father, John, had married Susanna Dove of Whittlebury. Ezra was the couple's second son and their third child out of nine (the last four were born in Winslow). After moving to Winslow, John and his family were living at one of seven neat, modern houses in Station Road in 1856 (now no.33). An advertisement designed to sell their freehold declares that the tenants were "good and punctual", and their "medium-sized" houses had been "recently painted and papered throughout, and are replete with every convenience". In 1874 John Braggins was a porter at Winslow Station. John lived in Buckingham Road, Winslow in 1881 but died in Hendon, Middlesex in 1894, aged about 76.
Ezra Braggins married, firstly, Susan Orchard on 13 April 1870 at Winslow. She had been born around 1848. Their daughter, Susan Orchard Braggins, died aged only 6 weeks on 24 Feb 1871. Her mother died four days later on 28 Feb 1871. The couple were living in Winslow where Ezra had taken over a drapery business (in 1861 he was recorded as draper's assistant; in 1871 he was a draper at the premises later known as London House, where 2 High Street is now). A directory of 1876 lists E. & W. Braggins, drapers & silk mercers, London House, The Square.
Ezra must have been heart-broken with grief but he was a sturdy, god-fearing man and the Winslow draper married, secondly, Miss Martha Elizabeth Willison, a farmer's daughter, born 1844 at Crafton, Wing, just two years later on 12 Feb 1873 in Wingrave Independent Nonconformist Chapel.
Perhaps Ezra didn't feel comfortable introducing a second wife into Winslow society, or maybe he had an urge to expand but he had soon opened a second outlet in Newport Pagnell and he acquired a main family home in that town. We know that Braggins' store was established in Newport Pagnell by the summer of 1874 for Elizabeth Coleman, 33, was charged with stealing 4 silk scarves, 1 pair of gloves, and 5 cambric handkerchiefs, value 13s, the property of Ezra Braggins, at Newport Pagnell on 4 Aug that year.
In the next decade, Ezra and Martha Elizabeth had six children, all of them born in Newport Pagnell. During the 1880s numbers 38, 40, 42, 44, 46, 52, 56 and 66 High Street in Newport Pagnell were used by textile trades, being the business premises of tailors, silk merchants, drapers, milliners and similar trades. Ezra Braggins' substantial silk and drapery store was no.46. Ezra became a leading Baptist in Newport Pagnell and would visit the tabernacle in Winslow to give talks as an honoured guest. Ezra was a fine singer, and later in his career he would give concerts that included one of his daughters in duet.
Ezra Braggins acquired a branch in Wolverton at Caledonian House, Stratford Road, probably at the start of 1885 after the death of the previous owner, Mr Symington, of typhoid fever. Ezra added funeral direction to the existing clothing and drapery business. This branch remained open until the 20th century
Ezra, with the help of one of his sons, briefly ran two stores in Winslow (E. Braggins & Son). The main store was at 15 Market Square, where Ezra took over the business of Gussie Stevens in 1894. The second shop was described as being in "Market Hill", a term which seems to have been used only very briefly (the "Market Hill pump" is mentioned in the Bucks Herald of 7 Sep 1895) and refers to 27 Market Square. He sub-let the residential part in 1895 (see details of the sales). Braggins & Son at 15 Market Square became Braggins & Horwood, and then changed to a grocer's. The photo below shows the shop at the time of Queen Victoria's Diamond Jubilee, 1897.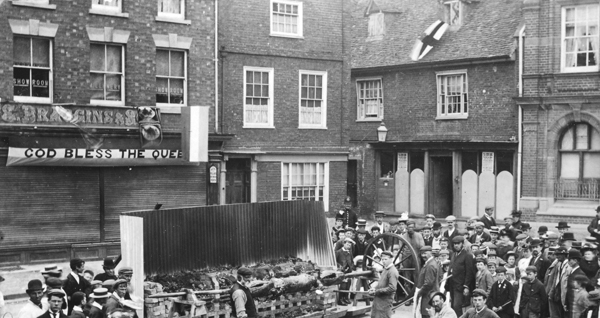 Ezra Braggins believed in "doing good" and volunteering to help others. He was a member of the managing committee of Yeates's Infant School in 1873. Whilst resident in Newport Pagnell, he became a leading light in its Bible Society, gave £1 to the Indian Relief Fund in 1877 and in the 1880s regularly gave gifts to the inmates of the local workhouse at Christmas. He died on 3 Oct 1912 in Bedford. The local paper recorded at the year's end: "Bedford has lost by death no fewer than 22 of her leading citizens this year, the last to pass away being Mr. Ezra Braggins, a successful tradesman, and a supporter of all religious, benevolent and philanthropic work in the county."
"E. Braggins and Son" remained in its two Bedford stores after the death of the founder. They were active in the 1940s and 50s but stopped operating as a family stores in 1968 (the premier store was renamed Beales in 1982). The firm sold high value products as well, such as mink jackets and cocktail dresses for ladies. The store was a source of fascination for young technophiles because it used the cash railway system that was probably installed in the 1930s. Money taken at tills was put into golden metallic canisters that were locked onto railway trolleys that winged their way with much rattling along long, open metal tracks pulled by a system of wires to the cash office in the dark recesses of the building. Goods branded "E. Braggins & Co" still appear on internet sites devoted to "vintage clothes". Russians covet their "retro" mink coats.
---
Back to Families / People