Are You Being Served? A Sketch of the Grace Brothers from Winslow
With Ed Grimdale
You may remember with affection the BBC sitcom based on the antics and catchphrases of sales' staff in Grace Brothers' department store. The show was popular across the world but when it was remade for an Australian audience, the producers changed the store's name to Bone Bros. And for the reason … one need look no further than … Winslow.
Joseph Neal Grace (d.1931), retailer, was born on 10 September 1859 in Winslow, son of John Grace, schoolmaster, and his wife Sarah, née Neal. The Neal family ran the Bell Hotel in Winslow for a very long time. Joseph attended his father's Classical and Commercial School that had been founded by his grandfather, Daniel, in 1812. His classical education came in useful when he gave his Australian shop a Latin motto: concordant nomine facta (the deeds agree with the name; see right). After being indentured to a drapery in Notting Hill, London, Joseph gained further retail experience before migrating to Australia in about 1880 when he was employed as a shop assistant in Sydney.
In 1885 after borrowing £500, he and his brother Albert Edward (d.1938) who had arrived via Boston that year bought the premises and stock of John Kingsbury, a draper in Sydney. Their joint enterprise prospered: in 1891-92 the brothers took over three adjacent shops and four years later they had a four-storey building erected to the rear. Further additions included the grandiloquent tower compared in my coloured picture (below) with one over the entrance to London's Victoria and Albert Museum, over-bearing roof-top globes, and the firm's own electricity generating unit. The department store's Broadway facade was rebuilt in 1906. The magnificent, up-market store boasted of 3.5 acres of space on its furniture floor. The Winslow boys created a veritable empire that included chains of smart stores and a large removals business. Their Art-Deco Grace Auditorium was at the heart of Sydney's social whirl.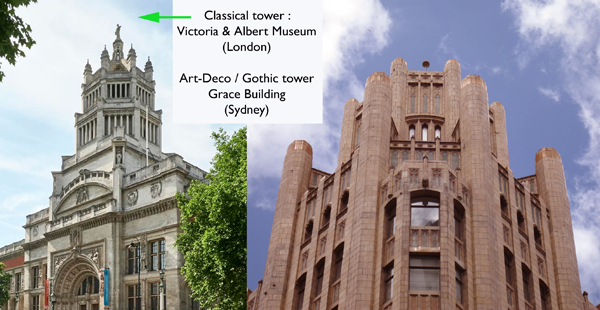 Grace Brothers knew the importance of good service and it was not long before their catchphrase "Be sure and get it at Grace Bros" was trilling from the tongues of faithful shoppers. Apparently, staff parodied the slogan: "Be sure you'll get it at Grace Brothers—the sack at 21!" They knew the firm relied on young, pretty sales assistants. No doubt they were Aussie versions of Miss Brahms who was so much admired by the elderly Grace brothers in "Are You Being Served?".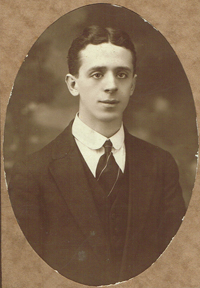 The brothers supported family and friends from their days in Bucks. Their sister Fanny (born Rosa Kathleen Frances) joined them but, sadly, died in Sydney in 1892. Amongst the firm's 2,000 employees in 1912 were Frank Stevens, the son of Mr & Mrs A.G. Stevens of Winslow, and Harold Morley Midgley (shown left in a Grace Brothers photo which he sent home in 1912), the youngest son of the late Arthur Stead Midgley, a solicitor's clerk and secretary to Winslow's gas company, and his wife Sophia.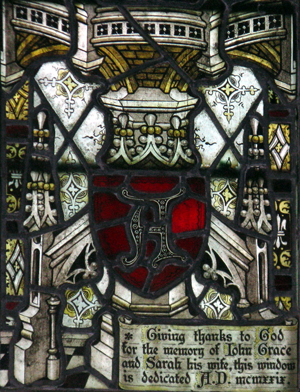 According to the Australian Dictionary of Biography John Neal Grace died suddenly at his residence, Yasmar, Parramatta Road, Haberfield, on 5 July 1931 and was cremated with Anglican rites. His wife Sarah Selina, née Smith, whom he had married at St Aiden's Chapel, Ballarat, Victoria, on 20 December 1911, survived him. His estate was valued for probate at £636,156.
The Grace Brothers had visited Winslow together one last time, probably in 1929. They had commissioned a window in memory of their parents John and Sarah Grace (photo on right) for the side chapel dedicated to prayer in Winslow's Parish Church. Its four lancets depict saints: St Laurence, St Alban, St George and Saint Aidan. Three of these saints are English, the 4th being the patron saint of Winslow's Parish Church. One senses that the window encapsulated the brothers' journeys through life.
Changing market conditions led to the closure of Grace Brothers' Broadway emporium in Sydney, but the building, a much loved focal point in the city, now has "heritage" status and houses the splendid Grace Hotel.
Copyright 7 September, 2020