Will of John Grace, schoolmaster, 1885
Oxford Probate Registry
ON the Twenty fourth day of September1885 the Will of John Grace late of Winslow in the County of Buckingham, Schoolmaster, deceased, who died on the Twenty third day of June 1885 at Winslow aforesaid, was proved in the District Registry attached to Her Majesty's Court of Probate at Oxford by the Oaths of William Robert Curtis of Little Horwood in the County of Buckingham, Farmer, and William Samuel Neal, of Winslow aforesaid, Brewer, the Nephews of the Deceased, the Executors according to the tenor of the said Will, they having been first sworn duly to administer.
It is hereby certified the above is a correct Copy. Dated this First day of October 1885.
Resworn June 1901 £976 – 7 – 5
Personal estate Gross £782 : 5 : 7
" " Net £223 : 0 : 3
No Leaseholds
Extracted by Willis and Willis, Solicitors, Winslow.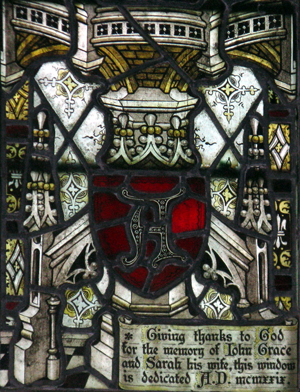 This is the last Will and Testament of me John Grace of Winslow in the County of Bucks, Schoolmaster. I bequeath to my Wife Sarah all the pictures prints books plate plated articles linen china wines liquors provisions household goods furniture horses chattels and effects which shall at my death be in or about my dwelling house or the outbuildings or grounds thereof and all my personal estate whatsoever (except any sum or sums which may be receivable under any Policy or Policies of Assurance on my life) I devise and bequeath all my real estate and the residue of my personal estate (except what I otherwise dispose of by this my Will or any Codicil hereto) unto and to the use of my Nephews William Robert Curtis of Little Horwood in the County of Buckingham, Farmer, and William Samuel Neal, of Winslow aforesaid, Brewer their heirs executors and administrators respectively according to the nature and tenure thereof Upon Trust that the said William Robert Curtis and William Samuel Neal or the survivor of them or the executors or administrators of such survivor (all which several persons and others the trustees or trustee for the time being of this my Will are hereinafter referred to as "the said trustees or trustee") shall sell by Public Auction or Private Contract call in collect or otherwise convert into money such parts of the trust premises as shall not consist of ready money (provided that no sale of any portion of my real estate shall be made during the life of my said Wife Sarah without her consent in writing) And shall out of the monies to arise from such sale calling in and conversion pay my funeral and testamentary expenses and debts And shall invest the residue of the said moneys in the names or name or under the legal control of the said trustees or trustee in or upon any of the Public Stocks or Funds or Government securities of the United Kingdom or upon freehold copyhold or chattel real securities of England or Wales in or upon the shares stocks or securities of any Company or Corporation whether commercial municipal local or otherwise carrying on business or constituted for any purpose in the United Kingdom And may vary the said stocks funds shares and securities at their or his discretion And shall pay the income of the said trust moneys and the investments for the time being representing the same to my said Wife during her life And after her death shall hold the said trust premises In trust for all my children or any my child who being sons or a son shall attain the age of twenty one years or being daughters or a daughter shall attain that age or marry and if more than one in equal shares And I declare that in the event of any child of mine dying in my lifetime or that of my said Wife leaving issue such issue shall take the share to which his or her or their parent would have been entitled if living when the said trust premises became divisible I devise the Copyhold portion of my real Estates To such uses as the Trustees or trustee shall by deed appoint (And in default of and subject to any such appointment To the use of the said Trustees their heirs and assigns accordingly) to the custom of the manors whereof the said hereditaments may be respectively holden and by and under the accustomed rents and services And I declare that the aforesaid power of appointment over and devise in default of my said Copyhold hereditaments are respectively given and made Upon trust and to the intent that the said trustees . . . shall sell my said Copyhold hereditaments and apply the moneys produced by such Sale in the same manner in all respects as if the same hereditaments had been included in the general devise and bequest hereinbefore contained of my real and personal estate in trust for sale and conversion Lastly I revoke all other Wills. In Witness whereof I the said John Grace, the Testator have to this my Will set my hand this Second day of April One thousand eight hundred and eighty five
Jno. Grace [signature]
Signed and acknowledged by the above named said John Grace as his Will in the presence of us present at the same time who in his presence and the presence of each other have hereto subscribed our names as Witnesses
Thos. Price Willis [signature] Solicitor, Winslow
Arthur S. Midgley [signature] His Clerk
Proved at Oxford, the Twenty fourth day of September1885, by Oaths of William Robert Curtis and William Samuel Neal, the Nephews, the Executors according to the tenor of the Will, to whom Administration was granted.
The Testator John Grace was late of Winslow in the County of Buckingham, Schoolmaster, and died on the Twenty third day of June 1865, at Winslow aforesaid
Personal Estate Gross £782 : 5 : 7
" " Net £223 : 0 : 3
Willis and Willis, Solicitors, Winslow
It is hereby certified the foregoing is a correct Copy. Dated this First day of October 1885.
---
Inventory
Centre for Bucks Studies D/WIG/2/1/14, ff.66-80
Mr Wigley used his usual coded system for values of individual items, not reproduced here. See also Arundel House.
[f.66] Valuation of Fixtures per the late Mr John Grace's House Winslow for Sale by Auction at the Bell Inn on Wednesday August 5 1885
Dining Hall
Mahog(an)y book Case & shelves as fitted in recess
Brass gas pendant
Drawing Room
&fittings
Breakfast Room & Kitchen
2 roller Blinds & fittings
Nursery
&fittings
Bedrooms
&fittings
Kitchen
Gas Bracket
Gas pendant
Pantry
Gas Bracket
Amt of valuation £5 9 6
[f.73] Valuation of Household Furniture and Effects at Winslow late the property of Mr Jno Grace deceased
Taken for Administration
September 3 1885
Dining Room
Mahogany folding table & cover
" Sideboard with 5 drawers
" Side table
" D(itt)o
6 Cane seat Chairs
1 Arm D(itt)o
1 Windsor D(itt)o
Mah(ogan)y Rattan tray
Music stand
2 Childs Chairs
2 Writing cases 1 Mah(ogan)y
1 Rose(woo)d
4 0 6
[f.74] Ebony Writing tray
Deal Chimney Glass & gilt frame
3 Vases
Bust & Bracket
14 framed & glazed Pictures
Fender & fire irons
Mahogany folding table
Coal Vase
Linoleum round[?] room
Cocoa Nut Matting in centre
Piano forte in Mah(ogan)y case Broadwoods &c
Skin[?] Mat & Cocoa Mat
Several Volumes of Books
Time piece in Walnut Case
Pair Curt(ain)s & Pole & Rings
Mah(ogan)y Medicine Chest
Silver
10 Tea Spoons old
6 D(itt)o new
Sugar Tongs
7 Dessert Spoons
4 Table D(itt)o
Electro
6 large forks
6 Small D(itt)o
1 S(er)ving Spoon
1 Ladle 'Soup'
4 D(itt)o
Butter Dish top & Base
Biscuit Jar
Egg Stand 4 Cups & 4 Spoons
Liquor Stand & 3 Decanters
6 Long Handle plated knives
Plated Cruet Stand & 4 Cruets
14 8 6
[f.75] Drawing Room
Mahogany Centre Table & Crimson Cloth Cover
" Couch cov' crimson damask
6 Mah(ogan)y Chairs D(itt)o
Easy Chair leather cloth
Ebonyd D(itt)o Worked Cushn
Mah(ogan)y Sideboard
Ebony Arm Chair
16 Vols Imperial Dict(ionar)y of Biography
3 D(itt)o Shakespeare & several other Books
Book slide
Carpet to Room & Skin H(earth) Rug
Wool Mat
Chin Pier Glass in gilt frame
2 Worked Cushions
2 Antimacassars
1 Large Atlas
Draught Board
Music Stool
Small work table
Mah(ogan)y Watnot
14 Pictures Glazed & framed
Mah(ogan)y Card Table
Pair Globes
2 Paper Maché Tea trays
Iron fender
Chimney ornaments
12 photo in plush frame
1 Graphoscope [OED: An apparatus containing a magnifying lens arranged for viewing engravings, photographs, etc.]
Pair China [...]hes Bowls
Stuffed Birds under Glass Shade
Old China Plate
Pair Lace Curtains & Cornice pole &c
13 5 6
[f.76] Hall
Oil cloth
4 Door Mats
Door porter [=doorstop] & scraper
Mess Room
Deal Dining Table
D(itt)o
4 Windsor Chairs
1 Elbow D(itt)o
Iron fender
Pair Brass Candlesticks
Stereoscope
Mah(ogan)y Bracket Clock
Mah(ogan)y Bureau
Deal form
Piece of Matting
Books
Cloak Room
Boxes
Straw Broom
Ladder
Pantry
Green Dessert Service
Tea & Breakfast Service
Q(uantit)y of Blue & White Ware
Dinner Service
Q(uantit)y of knives forks & spoons
2 Knife boxes
Deal Table
Large Brown Jar
Roast(in)g Jack
Q(uantit)y of Iron
Q(uantit)y of Tin Ware
Coffee Mill
Tin Cupboard
Tea Trays
5 6 0
[f.77]
Cellar
Beer Barrel
6 Bot(tles) Brandy
3 " Wine
4 " Gin
18 " Home made
Dairy
4 doz China & [illegible]
3 Milk tins
Perf(orate)d Zinc Meat safe
forms & stools
Q(uantit)y of Bottles
Glazed[?] jars
Kitchen
Board & trestles
Tin R...t(in)g Screen
Boilers & Tea Kettles
3 Windsor Chairs
Deal Dresser
Bass Broom
Galv milk cans
[107]
Q(uantit)y Saucepans
Pair Buckets & Yoke
Q(uantit)y of garden tools
Wash house
4 Wash(in)g Tongs
2 D(itt)o
Water Butt
Betty &c [OED: tidy-betty = an ashpan. Or it might mean a washing-beetle for pounding clothes.]
Laundry
Irons [illegible]
2 Deal Tables
3 Clothes Horses
Water Butt
Clothes prop
Wheelbarrow
4 16 6
[f.78]
School Room
American time piece
2 Writing Desks
1 Standard D(itt)o
1 D(itt)o Mah(ogan)y top D(itt)o
1 Small Desk
2 Stools
4 deal forms
2 Black Boards
3 fenders
3 Deal Trestles
Q(uantit)y of Books
Flower Stand
Study – Contents of same
Bedroom No 1
Mah(ogan)y 4 post Bedst(ea)d
Bedding to same
4 Cane seat Chairs
Dressing table
Chest 5 drawers
Bath [illegible]
P(ainte)d Towel airer
Oak Wardrobe
Chimney ornaments
Mah(ogan)y Commode
Dressing Glass
Bedside Carpets
Toilet service & Water C...
[illegible] &c
Dressing Room
Small iron Bedstead
Bedding
P(ainte)d Toilet service
Mah(ogan)y Dress(in)g Glass
1 Cane seat Chair
Framed[?] [illegible] &c
Bedside carpet
Bedroom No 2
P(ainte)d Wood French Bedst(ea)d [OED: a bed with a high, S-scrolled headboard and footboard]
Bedding &c
8 13 0
[f.79]
P(ainte)d Iron French Bedst(ea)d
Beddi(n)g D(itt)o
2 Stump Bedst(ea)ds D(itt)o [OED: bedstead without posts]
Bedding
P(ainte)d Washst(and)
3 Hand Basins
Foot bath
2 Chairs
Oak Wardrobe
Bedroom No 3
2 Stump Bedst(ea)d
Bedding to same
P(ainte)d Washstand
H(an)d Basin
Deal Boxes
Chair
Bedroom No 4
P(ainte)d French Bedst(ea)d
Bedding
2 Stump Bedst(ea)ds
Bedding
Bedside Carpets
P(ainte)d Washstand
Dressing Table
" Glass Mah(ogan)y
P(ainte)d Towel airer
Toilet Can
Cane seat Chair
Bedroom No 5
P(ainte)d Iron French Bedst(ea)d
Bedding
Small table
2 Cane seat Chairs
P(ainte)d Chest 5 drawers
" Washstand & fitted
large basin
& toilet service
Fender Brass [illegible]
Skin Mat
H(earth) Rug
7 19 0
[f.80]
Bedside Carpets
Stump Bedst(ea)d
P(ainte)d Towel airer
Servants Bedroom
Large Oak Linen Chest
Deal table
Dressing Glass
P(ainte)d Towel airer
2 Chairs
Iron folding Bedstead
3 Basins
Stump bedstead
Q(uantit)y of Bed & table linen
Wearing Apparel
2 14 0
Farming Stock 7 19 0
[Total] 61 3 0
---
Notes
John Grace (1820-85) was the son of Daniel Grace (d.1868). He ran the Winslow Classical and Commercial School (q.v. for more about John Grace). He married Sarah Neal of The Bell in 1849. The memorial window in Winslow parish church (photo above) was paid for by their sons who went to Australia. Sarah was living at 168 High Street in 1891. Their children were:
Sarah bap.1851
Rosetta Sarah Thalia bap.1853, m.1881 Henry Clift, draper of London
John Horatio Philip bap.1853; jewellery assistant living in lodgings in Moss Side, Lancs, in 1891
Rosa Kathleen Frances 1854-92, died in Sydney
Emma Eugenie 1856-75
Henry Philos 1858-61
Joseph Neal bap.1861, founder of Grace Brothers, Sydney
Octavia bap.1862, dressmaker living with her mother in 1891
Albert Edward bap.1863, went to Australia with his brother
Juliet bap.1865
Marcia bap.1869, governess living with her mother in 1891
Buckingham Advertiser, 4 July 1885
THE LATE MR. JOHN GRACE.- We have to record the death of Mr. John Grace, which took place on Tuesday, June 23, at the age of 65. For over 60 [sic] years principal of Commercial School, he was widely known and esteemed throughout the district, most of the younger middle class men having passed through his school in their time. In addition to this he held the office of secretary to the Gas Company, was hon. Sec. to the Cattle Assurance Association, and the Fire Brigade, and was collector of income tax &c. He had also several times been chosen a Guardian for the parish.- The funeral took place on Saturday June 27, at the Parish Church, and was conducted by the Vicar, the service being full choral. The funeral procession was headed by Dr. Newham, and Messrs. Matthew and Stevens, undertakers. The coffin was covered with wreaths of lilies and other choice white flowers, sent by sympathising friends, and was followed by the relatives, Mr. Jno. Grace and Mr. Clift, son and son-in-law, and Messrs W. Neal, Curtis, and W. S. Neal, and the ladies of the family. Among those who attended as a mark of respect were, Mr. H. Monk (Chairman of the Board of Guardians), Mr. M. Selby Lowndes, Mr. T. P. Willis, Mr. G. D. E. Wigley, Mr. Jas. King, Mr. W. Minter, Mr. J. Loffler, Mr. Hathaway, Mr. Geo. King, Mr. F. Dancer, and Mr. Morris, jun. (Hogston), Mr. Clare, Mr. Barton, Mr. Hillier, Mr. G. George, and the Rev. R. C. Allen (Thame). A muffled peal was rung at the close of the ceremony.
Buckingham Advertiser, 4 July 1885
WINSLOW.
3 FIELDS of MOWING GRASS, and 2 of GRASS KEEPING, up to September 29th, 4 Well-bred DAIRY COWS and HEIFFERS, Capital weaning CALF, In-pig SOW, a few Farming IMPLEMENTS, and Effects,
TO BE SOLD BY AUCTION, BY MR. GEO. WIGLEY,
On Wednesday, July 8th, 1885, on the Farm Premises, Buckingham Road, Winslow, by direction of the Executors of the late Mr. John Grace.
The Grass Crops are very heavy, and the Stock is of good quality and in profitable condition.
The Sale will commence at 3 o'clock.
Catalogues may be had at the Offices of the Auctioneer, Winslow, and Town Hal Offices, Fenny Stratford.
Buckingham Express, 6 Aug 1887: County Court report
W. Neal, jun and W. Curtis, executors under the will of the late Mr. John Grace, of Winslow, sought to recover a balance of account £15 11s. 2d., due to the widow of the said John Grace, from Richard George Marks, of Oving, Inspector of Nuisances for the Aylesbury Union District. A letter was read from the defendant, who offered to pay half the amount claimed in a month, and the remainder at the end of September.- Mr. Neal said that defendant was in receipt of £150 a year as Inspector of Nuisances for the District of Aylesbury, and had other sources of income. He (Mr. Neal) was acting as executor for a widow who was very poorly off. Defendant, although well able, would not pay until he was compelled.- His Honour said in the face of defendant's letter he should make an order for defendant's commitment for 28 days, but the order would remain in the office until the 30th of September.