George D. Day (1862-1911)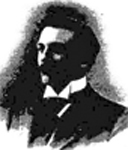 George David Day was born at Bracknell, and came to Winslow in or before 1879 as a pupil-auctioneer with G.D.E. Wigley. In 1881 he was living with the Wigleys at Sunnylawn House. He stayed in Winslow until 1889. Among his many activities in Winslow were:
secretary of the Band of Hope
organist at the Congregational Church and later the Parish Church
singer and actor in amateur performances
pianist at concerts for the Parish Reading Room
He had many poems (some with radical content) published in the local press and the Weekly Dispatch, including a Guy Fawkes acrostic. He must have had a worthwhile income from the prizes he won.
Bicester Herald, 25 June 1886
THE PRIZE OF TWO GUINEAS for the best Rhymed Acrostic on "Whitsun Holiday" has been awarded to Mr. George D. Day, Winslow, Bucks, for the following sonnet:-
Worn by the toil which daily cares impose -
Heart-hungry for the hallowed peace that dwells
In childhood's haunts, with all its sacred spells –
The city worker to his old home goes;
Sees there his father's farm, the brook that flows
Under its leafy shade; the village bells
Now softly pealing wake in memory's cells
His earliest aspirations, till he grows
One with the scene. The birds that chase the sun,
Lanes radiant with the thrill of love and light,
Interwoven traceries of gold and white
Dappling the fields – they all with him are one;
Ah me! for one brief hour of peace begun
Yearns not the soul for deeper, new delight? - Weekly Dispatch.
Bicester Herald, 30 July 1886
THE PRIZE OF TWO GUINEAS for the best Original Acrostic on any Seaside or Holiday Resort in the United Kingdom has been awarded to Mr. George D. Day, Winslow, Bucks, for the following sonnet:-
HENLEY-ON-THAMES.
Hid in a loving clasp of sylvan shade,
Encircled by fair forms of hill and dale,
Nestles the quaint old town. Adown the vale
Laughs Thames' clear stream, where many a nut-brown maid
E'en now with silvery music fills the glade.
Yonder, with noiseless pinions, a white sail
O'ertakes some sleeping swan. The am'rous gale
Now flits where virgin lilies have inlayed
Their sun-screened haunts with chalices of gold.
Here Britain's sons in manly conflict vie,
And snatch the golden prize of victory,
'Mid beauty's festive throng, which, as of old,
Enthralls all hearts, till night's pale mists enfold
Sweet scenes of peace, and veil the spangled sky. - Weekly Dispatch.
The following poems were evidently a reaction to the defeat of the Irish Home Rule Bill, LIberal split and the Unionist victory in the 1886 General Election
Bicester Herald, 22 Oct 1886
SHALL WE BE SILENT, O men, as sheep that are led to the slaughter?
Silence is born of content, rebellion is poverty's daughter.
Ye who rejoice in your wealth – not yours but another's getting –
Living in pampered delight in indolence, racing and betting.
Squand'ring the fruits of our toil, yet shunning life's harassing hustle,
Drones that we are, shall we reap but naught from our wearisome bustle?
Harken a while, lest we cry "Abolish distinctions and classes,
How to great Demos the king, submit to the rule of the masses."
Pause ere the wall of the poor and the starving ye should have tended –
Pause ere the ghosts of the past, and the wrongs that ye should have mended –
Pause ere the justice of Heaven, to which ye have long been a stranger,
Rise to avenge the oppressed, and threaten your empire with danger! - Weekly Dispatch. GEORGE D. DAY.
Bicester Herald, 12 Aug 1887
AN APPEAL TO THE SO-CALLED LIBERAL UNIONISTS.
Comrades who have shared the glory of a long and honoured past,
Rich in deeds whose deathless lustre to unending time shall last;
Warriors, who have fought for justice, will ye now unfaithful be
To the flag ye oft have carried in the vanguard of the free:
There are evils to be conquered, there are wrongs to be redressed,
Choose to-day which will ye champion – the oppressor or oppressed?
By the countless years of evil, by the discord and the strife,
By the iron law whose fetters eat into the nation's life,
By the ruined hearths and homesteads, by the grief to heaven upborne,
By the harp whose tones are muffled, and the shamrock crushed and torn, -
Wipe the blot off England's scutcheon; let her honour be restored.
They are brothers, and not bondsmen – love is stronger than the sword
Union is born of friendship : they are traitors to the name
Who with cruel hands are adding to her bitter cup of shame.
Love can conquer every evil – love shall bid contention cease,
And unite a mighty empire in the golden bonds of peace. GEORGE D. DAY. - Weekly Dispatch
He developed an interest in telepathy.
Buckingham Advertiser, 26 March 1887
An article on "Mind-Magic" from the pen of Mr. G. D. Day, of Winslow, appears in Cassell's Magazine for March.

He also published sheet music, between 1886 and 1895 under the name of Hugh Clifford.
Buckingham Express, 18 Sep 1880
Harvest Thanksgiving Services.
"THE SOWER WENT FORTH SOWING"
Harvest Hymn from the Ancient & Modern Collection
With Music Composed by Mr. GEO D. DAY, WINSLOW.
Music and Words complete, (Octavo), Price One PENNY.
At Reduced Rates per dozen, or higher Numbers.
To be obtained of Mr. E. J. FRENCH, Bookseller, WINSLOW.
Bicester Herald, 19 Jan 1886
NEW MUSIC.- A new waltz, entitled the "Olivia Waltz," has recently been published by Mr. G. D. Day, of this town, who writes under the nom de plume of Hugh Clifford. It is dedicated by special permission to Miss Ellen Terry, a very artistic chromo-lithograph of whom in her role of Olivia in the noted Lyceum play, with autograph, appears on the front page. The waltz is written in four parts and coda. No. 1 in the key of F is a very graceful air, while of the other numbers, Nos. 2 and 4 are especially melodious and taking.

Bicester Herald, 26 Nov 1886
THE QUEEN'S RESOLVE. "I will be good," is the title of a service of song, compiled by Mr. G. D. Day, of Winslow, and of which the music is mostly written by him.
Day became friends with the Jones family, who lived at 3 Horn Street. He was close in age to W.J. Jones (b.1864) and probably through him met the playwright H.A. Jones. In 1891 the Buckingham Express (5 Sep) reported that he was acting manager for H.A. Jones at the Avenue Theatre, and he also went to the U.S.A. to make arrangements for a visit by Jones (Buckingham Advertiser, 28 March). He put on a play of his own:
Buckingham Express, 14 March 1891
MR. GEO. DAY AS A DRAMATIC AUTHOR.- A new one act play by Mr. George D. Day, entitled "His Mother," has been accepted by Mr. Harold B. Nelson, and will precede "Judah" on tour. It will be produced at the Theatre Royal, Cardiff, on Monday next. The cast includes Mr. Langley Russell, Mr. F. A. Gaytie, Mr. H. W. Read, Mrs. E. Clifton and Miss Athena Thompson.
In 1895 the Buckingham Advertiser (16 Feb) said he was secretary to Jones. On 6 Feb his new comedy, The Diamond Rush, written in collaboration with Sydney Bowkett, was staged at the Theatre Royal, Cambridge. The Advertiser (23 Feb) gave a synopsis showing that the characters were all given local names: Frank Salden and his father Squire Salden, Nelly Belgrove the schoolmistress, Jack Curtis the village ne'er-do-well, Arthur Midgley the lawyer who plans to rob a bank, Woodward the diamond miner.
The 1901 Census recorded him as a theatrical manager staying at the Adelphi Hotel, Liverpool. He kept his connection with the Wigleys, as he was one of the people who gave a wedding present when Nellie Wigley married George Osborn in 1901 (Buckingham Express, 17 Aug).
On 5 March 1896 Day married at St George's, Hanover Square the actress Lily Hall Caine (d.1914), sister of the eminent writer Hall Caine. Guests at the wedding included (according to The Queen, 14 March), the Chief Rabbi, J.M. Barrie, Frances Hodgson Burnett, Jerome K. Jerome, Arthur Wing Pinero, H.A. Jones, Mrs Bram Stoker and Rider Haggard.
In 1898 a comedy by Day and "Silvanus Dauncey" (who was actually W.J. Jones) called Bilberry of Tilbury or The Lady Detective was performed at Northampton, Brixton and the Criterion in London, and remained in production the next year. Day was also author of (among other things) Fairly Caught (1891), His Mother (1891), A Near Shave (1895) and Campano or The Wandering Minstrel (1898), and co-author with Sidney Bowkett of The Mummy (1895), The Willow Pattern Plate (1897) and Fatal Diamonds (1899), and with Arthur Branscombe of The American Heiress (1899).
From about 1903 Day ran his own theatrical touring company, performing plays by his brother-in-law among others. He died intestate on 15 Dec 1911 at 72 Morehead Mansions, Paddington, leaving effects worth £487. He had one son, David.
---
Back to Families / People
Copyright 21 October, 2021