Silvanus Jones (1827-1914) and Henry Arthur Jones (1851-1929)
Silvanus Jones was born 25 Feb 1827 at Winslow and died 6 Nov 1914 at Winslow, aged 86. His father was William Jones of the Three Pigeons (d. 1857). He was on the managing committee of Yeates's Infant School. He was the tenant of Red Hall Farm when it was sold by the Lowndes estate in 1897.
His eldest son Henry Arthur Jones was born 20 Sep 1851 at Ley Farm, Granborough, and died 7 Jan 1929 at 19 Kidderpore Avenue, Hampstead, aged 77. He attended Grace's Classical and Commercial Academy at Winslow until he was 13, and then went to London where he was working as a warehouseman in 1871 (and living in a lodging house in Harewood Street, Marylebone). By the 1881 census he was a "dramatic author".
1861: Census
Horn Street [now no.3; Silvanus is recorded there in all censuses to 1911]
| | | | | | | |
| --- | --- | --- | --- | --- | --- | --- |
| Silvanus | Jones | head | married | 34 | Cattle Dealer | b. Winslow |
| Elizabeth | Jones | wife | married | 35 | Mistress of the House | b. East Claydon |
| Henry A. | Jones | son | | 9 | Scholar | b. Granborough |
| Charles L. | Jones | son | | 6 | Scholar | b. Granborough |
| Owen E. | Jones | son | | 2 | Scholar | b. Winslow |
| Elizabeth | Silver | servant | unm | 17 | House Servant | b. Oxon |
H.A. Jones was a friend of Thomas Hardy, but not of Oscar Wilde, who wrote "There are three rules in the theatre: number one is not to like H.A. Jones. Numbers two and three are the same."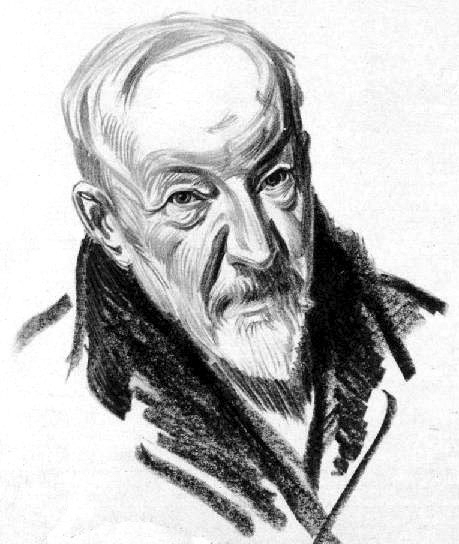 Drawing of H.A. Jones by the distinguished, young american artist Walter Ernest Tittle, 1915
This summary of his early career, from The Figaro, was quoted in the Bucks Herald (25 Oct 1884): "Mr Henry Jones is a young man. Born at Grandborough, in Buckinghamshire, in 1851, he is now in his thirty-fourth year. As a boy he became acquainted with the old village life of England, then undisturbed by the modern industrialism which is fast destroying its distinctive character, and many think its real charms. He received what was in those days an average middle-class education from a local schoolmaster, and at twelve years old was sent into the world to shift pretty much for himself. At this early period he began writing tales and verses, and sent them to the various magazines. Mr. Jones had his first chance in 1879. He had produced one or two trifles at Exeter Theatre, and had written and printed a one-act comedy. This little piece was offered to and refused by every West-end manager in London. At last it was sent to the manager of the Grand Theatre, Leeds, who was unknown to Mr. Jones. Mr. Wilson Barrett has, therefore, the satisfaction of knowing that Mr. Jones came out as a dramatist in the metropolis under his auspices. 'A Clerical Error' was produced at the Court Theatre, and was so successful that when Mr. Barrett took possession of the new Princess's in 1880, he accepted from the author another one-act comedy entitled 'An Old Master'. Mr. Jones's next piece was 'His Wife,' a dramatisation of Mark Hope's 'Prodigal Daughter.' This was produced by Miss Bateman at Sadlers' Wells in 1881, and afterwards in the provinces. In January, 1882, 'A Bed of Roses' had a warm reception at the Globe, but was necessarily withdrawn after a month's run, with the longer piece in the bill. Then followed Mr. Jones's great success, 'The Silver King,' which fairly took the town. In writing this play, he acknowledges he enjoyed valuable assistance from Mr. Henry Herman and Mr. Wilson Barrett. 'Saints and Sinners' is the last of his works which has been submitted to the public, but he has in his possession a five-act blank verse play, which may be produced at one of the leading theatres next autumn, and Mr. Wilson Barrett has a melodrama which will be produced when a suitable theatre can be found."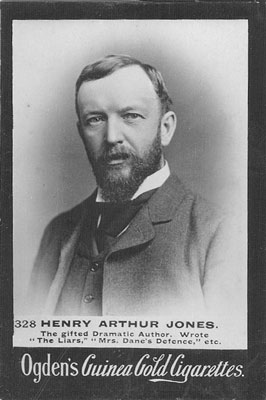 The Bucks Herald took a great interest in H.A. Jones' career and often had news or gossip about him. This was about the visitors' book at the Griffin Inn in Amersham, 23 May 1895: "The following [signature] of our Buckinghamshire dramatist interested me more than any others:-
"Henry Arthur Jones, the Hill House, Chalfont St. Peter, Sept. 5th '87."
To this someone added :- "This is the author of the Silver King and other popular plays;" to which another scribbler appended "Oh, indeed ! never heard of 'im";
and the ignoramus was thus sat upon by a succeeding visitor in these terms :-"The man who has never heard of the author of the Silver King and the Middlemen was not wise to display his ignorance. I fear that there are many things that he has not heard of.""
Bucks Herald, 2 Nov 1895: "I notice that the Daily News states that Mr. Henry Arthur Jones is anxious to drop his surname. Why should he be ashamed of the grand old English name of Jones is a mystery, but it is a fact that the Winslow dramatist is alluded to by his friends as Henry Arthur or Henry "Author". The great family of Jones will be rather disgusted at the idea of losing by name one of the greatest playwrights. Jones, Smith, Brown and Robinson should send him a round robin, asking him to still continue to shed lustre on their prosaic but universal cognomens."
This comment appeared in the Bucks Herald, 2 May 1896, taken from the Westminster Gazette: "Mr Henry Arthur Jones, in his new play, 'The Rogue's Comedy,' at the Garrick Theatre, has introduced names reminding one of the neighbourhood in which he was born. Lord Bicester, for instance, owes his name to the little town of Bicester (pronounced Bister) between Winslow, Bucks, the birthplace of the playwright, and Oxford. Mr Lambert's name is suggested by that of Mr. Nathaniel Grace Lambert, formerly Liberal member for Buckinghamshire, whose agents used to claim Mr. H.A. Jones's father as a supporter. Then Mr. Hubbock is a little variation from Hubbard, the family name of Lord Addington, whose seat is two miles from the dramatist's home. Mr. Jones's brother takes the professional name of Silvanus Dauncey, a combination of the Christian name of Mr. Silvanus Jones, senior, and the surname of an old Buckinghamshire squire of courtly bearing."
According to an article in The Sketch (5 Jan 1898), "Mr. Jones senior … is very highly esteemed by his neighbours. His clever son is not without honour in his own country, his productions being much discussed, and in his earlier plays especially many people thought they could identify local characters."
Bucks Herald, 26 April 1902
MARRIAGE. – Miss Ethelwyne Jones, the second daughter of Mr. Henry Arthur Jones, the dramatist, was married on Thursday afternoon, at St. George's, Hanover-square, to Mr. M. V. Leveaux, the acting-manager of the Garrick Theatre. Miss Jones has been on the stage for some time, and was recently playing in her father's comedy, "The Princess's Nose," at the Duke of York's. A reception was given during the afternoon at 38, Portland-place, which was attended by a crowd of theatrical notabilities. There were over 300 wedding presents.

PROPERTY SALES.– On Wednesday evening Mr Geo. Wigley offered for sale by public auction properties situate at Adstock, Padbury, Twyford, and Winslow. The Booteries, Winslow, sold by order of Lloyds Bank, was purchased by Mr. W. S. Neal, for the Winslow District Council, at £230. Mr. W. H. Stevens, of Winslow, became the purchaser of a dwelling house on the Market-square, Winslow, sold by direction of Mr. Henry Arthur Jones, the price realised being £125. ……
Norman A. Saving's work on Henry Arthur and Silvanus Jones (1979) is reproduced below with the author's permission. Click on the image to download the PDF file (2.4 MB):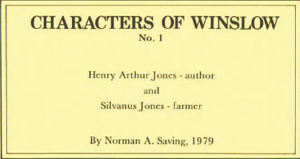 Back to Families / People
See also: