The Turnbull family (late 18th-early 19th centuries)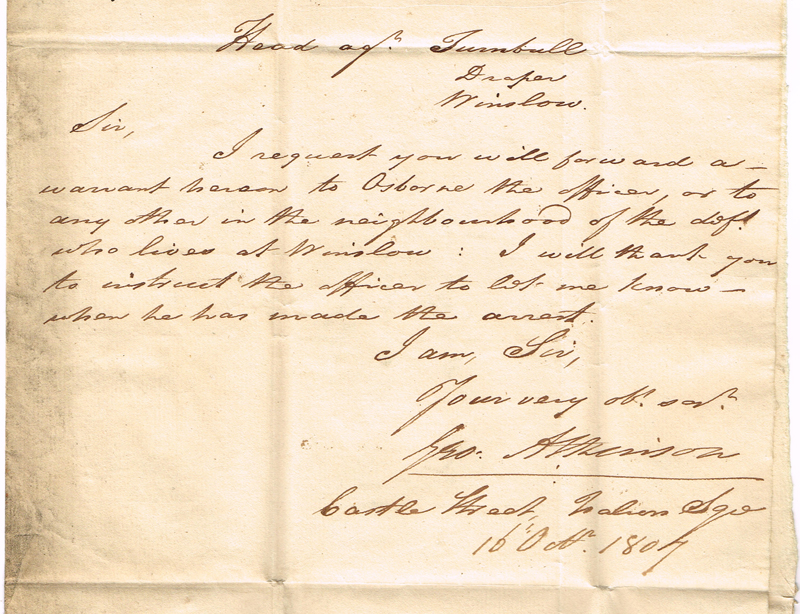 Letter concerning the arrest of John Turnbull in 1807 (click for larger image)
The Hogg family of Adstock owned a messuage on "Market Hill" in Winslow. In 1764 Mary Hogg married John Turnbull of Winslow, draper, who was probably born at Padbury in 1742. In 1778 she inherited the property from her father William Hogg, and in 1787 her husband John died, leaving her everything (see his will). The business was carried on after Mary's death in 1799 (see her will) by the second John Turnbull and his sister Elizabeth, children of Mary and John. John jr married Elizabeth Cross at Twyford in 1802. Elizabeth Turnbull married William Budd in 1801 (he died in 1803). In 1807 George Atkinson, a London lawyer wrote to the Under-Sheriff of Bucks asking for a warrant for the arrest of John Turnbull in the case of "Head against Turnbull". Click on the letter (right) to see a larger image of the document. Presumably it was a case of debt. The outcome isn't known, but the business carried on until 1816, when the Northampton Mercury of 7 Sep advertised the sale of the stock:
Linen and Woollen Drapery, Household Furniture, &c.
To be S O L D by A U C T I O N,
By SAMUEL DUDLEY,
On Thursday, the 12th of September, 1816, on the Premises of Mrs. TURNBULL, at WINSLOW, Bucks, who is removing to Padbury.
THE STOCK comprises a small Assortment of linen and cotton Goods, Coatings, Waist-coatings, Hats, Gloves, Haberdashery, &c. – Part of the HOUSEHOLD FURNITURE, consisting of bureau and stump Bedsteads, feather and flock Beds, mahogany dining Table with circular Ends, a capital pier Glass, in gilt Frame; six mahogany Chairs, hair Seats; two elbow ditto, to match; counting House, Desk, and Drawers; mahogany wash-hand stand, a capital Clock and Case, tea Urn and Stand, Carpet, Barometer, Fender and fire Irons, ironing Stove and Pipe, with various other Articles.
The Sale will commence at Eleven o'Clock.
Back to Families / People
Copyright 26 February, 2018