Arthur Clear (1833-1900), and his son Alfred J. Clear
A note by Ed Grimsdale on the author of the first book on Winslow, published by Edwin French in 1894
Arthur Richard Clear was born in 1833 in St Andrew's, Royston, on the border between Cambridgeshire and Hertfordshire. Arthur remained there during his youth but later moved to London where he joined the Bow Street police force
This report from the Northampton Mercury on Winslow Petty Sessions, 13 Nov 1878, shows Arthur Clear in action as attendance officer.
John Jackman, of Drayton Parslow, labourer, was summoned by Mr Arthur Clear, the School Attendance Officer of the Drayton Parslow School Board, for a breach of the bye-laws, by not sending his child Netta to school, for which he was fined 5s., to be levied by distress, and in default of distress to be imprisoned for seven days, with hard labour. Hannah Kirk, single woman
Life as a Bow Street runner was hard. Arthur would have remained "on the beat" during long shifts. That meant he must walk at a steady two and a half miles each hour, without a meal or a refreshment breaks, and was forbidden to sit or lean on anything whilst on duty. Such physically demanding work was exacerbated by London's environment. If a copper was not trying to breathe normally in a thick smog caused by the millions of coal fires, he was beset by the gaseous products bubbling from open sewers. London was bad for health and many policemen had to leave the force, beaten not by encountering rough men but through breathing "fresh" air. It's said that more London policemen died in the 19th century of T.B. than from attacks by criminals.
There's little doubt that Arthur moved to Winslow to enjoy the country air of his youth. He became Winslow's very effective sergeant, and was active during the 1870s, not only catching criminals but supervising the fight to stop the spread of "foot and mouth disease" in cattle. Clean air couldn't ameliorate the permanent damage that London had done to Arthur's lungs. He needed to find a less active job. Thus Arthur applied for and became the School Attendance Officer for the Winslow Union. Yes, he had to travel around the villages in Winslow's hinterland, but could do so at his own pace. Arthur loved history and, particularly, architecture, so it was convenient to pay home visits to locals, to listen to their stories, and to examine historic churches and buildings on his way.
The photograph shows Colgrove's butcher's shop with the white shop front. The Clear family lived in the second house to the right, known as Sausage Terrace because of the neighbours.
In 1881, Arthur was living with his wife, Rebecca, their son Alfred J. Clear and a London-born servant, Sarah Hawkins who was nearing 50 years old at the house which is now 79 High Street. But, on 24 Jan, Rebecca, who was a lot older than Arthur, died. No doubt, Arthur found sustenance in his faith – he was a keen Congregationalist and at the heart of that sect in Winslow. They were busy planning a replacement for their 1829 typically Georgian chapel that had, itself, succeeded their first meeting place in an old barn. There was much to do and, both Arthur and his son threw themselves into fund-raising, with Arthur becoming Secretary of the fund-raising committee. The building would be constrained by its site – unusually, the previous chapel had its major axis along Horn Street rather than running back from a narrow street frontage. No doubt, Arthur, with his wide acquaintance with churches and chapels, was excited by the need to find an architect who would relish the challenge of accommodating a Sunday School, a Chapel seating 300, and meeting rooms on the land-locked site.
John Sulman, a rising RIBA architect who specialised in Congregational Chapels, created the unique designs. His chapel was built around a massive but truncated tower - large enough to contain an upstairs room. It dominates the street scene today, despite the building having been converted from sacred to secular use. It was probably the last building that Sulman designed in England before emigrating to Australia because his wife was suffering from T.B. His Winslow chapel deserves greater recognition and praise for its brazen originality. Like Buckingham's Gilbert Scott, Sulman was eclectic, he could morph his designs to incorporate and transmogrify a wide range of styles. He believed strongly in form and fitness for purpose. The building which Clear and his fellow Congregationalists in Winslow obtained from Sulman oozes two of the architect's great loves: "strength and dignity". It's not large but it possesses an imposing presence. Sulman went on to great things in Australia and became the first Australian architect to be knighted for his work.
Whilst Sulman emigrated to Australia, Clear & Son continued to inspire events to pay for the Chapel. Once, Arthur was in one room with his "electrifying apparatus", no doubt an early version of that ever popular fete number: a convoluted bent wire along which the user must navigate a ring without wobbling to complete the circuit and ring the alarm bell. Downstairs, Clear, junior, stood by "a powerful magic lantern … and, in addition he caused much amusement by giving portraits directly from photographs". At the end of the afternoon another "most satisfactory" £23 was banked.
On to the big funding event of 1888, a lecture with the title "A Thousand Years of Winslow Life" given by Arthur in the congregational schoolroom. The Bucks Herald reported:
The lecture was an epitome of all that could be gleaned concerning Winslow and its inhabitants from about the year 750.
There was a "capital" attendance and Mr Clear received an acclamation. The Minister, Reverend J.S. Poulton, suggested that a more permanent character should be given to it by its being printed. A number of a leading Winslow family, the Frenchs, were in the audience, each one a teetotal Congregationalist; amongst them was Edwin French, a printer. No doubt his ears pricked up; he produced the first edition of Arthur Clear's seminal book in 1894. Alfred J. Clear worked for Edwin French as "printer journeyman", and the Clears lived next door to Mr French in 1891.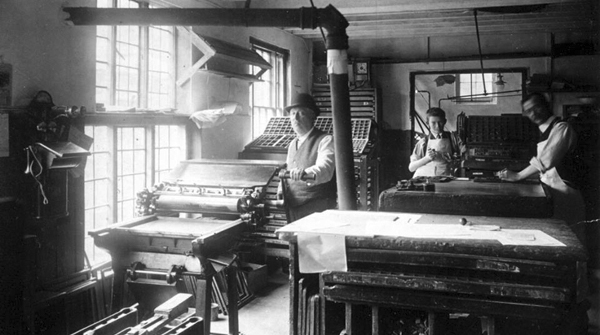 French's printing works in Greyhound Lane
Arthur Clear had established his literary credentials through publishing local history booklets, including studies of Granborough and Little Horwood. He'd assumed the chair of Winslow's Literary Institute and eventually he became an Honorary Member of the Bucks Archaeological Society, having written articles and contributed artefacts. Arthur, himself, had a fine collection of old coins, antique furniture, pictures, paintings etc. at home.
Here is a letter, typical of the well-informed, lively pieces that Arthur wrote. It was sent to the Northampton Mercury in 1887 in response to a query about North Marston:
203. - NORTH MARSTON CHURCH, BUCKS
This handsome church has for many generations been substantially covered with lead, and is noted as having formerly contained the shrine of Sir John Schorne "Whose miraculous powers and uncommon piety caused him to be renowned far and near as a saint" one of his performances being that of conjuring a devil into a boot. Representations of this achievement may still be seen depicted in several churches in Norfolk, and other counties.
About fifty years ago the lease of the impropriate vicarage of North Marston was held by John Camden Neild, Esq, a person of great wealth, but of most miserly habits. As such leasee it was his duty to repair the chancel of the church, and it having been pointed out to him that the lead roof was worn and cracked in places and needed repairs, he procured some strips of calico or canvas, which he painted, and stuck over the holes and cracks, saying 'they will last my time'. Other occasional leakages were stopped with rags and gas tar [a sticky by-product of coal gas production], and this homely and inartistic mode of repair had to suffice during his lifetime. He died in 1852 and was buried in great pomp in the chancel of North Marston Church, leaving all his immense property, estimated at £500,000 to Her Majesty, the Queen. In token of her gratitude Her Majesty restored the chancel and filled the east window with stained glass to his memory.
Winslow Arthur Clear
This vignette will chime with readers on two counts: the Devil in the Boot story because of Winslow's former public house of that name, and the tale of roof repairs since many of our churches are having to replace lead stolen by thieves, and reinstating like for like invites further raids. Maybe, Neild was ahead of his time.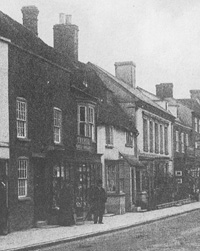 In 1891, Arthur Clear was living at the building which is now 18 High Street (the white building with porch in the photograph), close to French's printers. He was now married to Caroline C. Clear, aged 59, b. Milton, Northants.
In his later years, Arthur Clear operated a business from his High Street home. It was to Arthur Clear that you'd repair if you were fed up with Winslow and wanted to emigrate to a new life, maybe to Australia like Mr & Mrs Sulman, or to America or Canada. Arthur's lungs were getting weaker. He, too, needed a change of lifestyle. And, truth to tell, this "Mr Winslow" had become disillusioned with aspects of Winslow. It all started with an act of benevolence. People knew that Arthur struggled to "get by": his work as Attendance Officer was not richly rewarded. "Couldn't Mr Clear also act as Winslow's Registrar of Births, Marriages & Deaths?" someone asked when a vacancy arose. "Capital idea". Arthur readily agreed. The committee felt proud that it had honoured a good man, a man who knew Winslow inside out and that they had found a way to supplement his income. Then, Arthur made a bad move. He knew that his lungs were failing, and realising that he could exist on his Registrar's money, Arthur handed in his notice as the itinerant Schools' Attendance Officer. The committee responsible for the Registrar was appalled and insulted. They had appointed Arthur because the twin roles, Attendance & Registrar, had synergy: they fitted together. It was their great piece of strategy and forward planning and Arthur Clear should be reported to the Registrar General for his act of lèse-majesté. (Quite what the Registrar General would have made of their intended report is another matter – perhaps, they would have been sent to the Tower!)
Poor Arthur, the kerfuffle did nothing for his health, and no longer could he walk at a steady 2.5 mph. Had he not been a God-fearing man, he might have exclaimed, "To Hell with all of them". As it was, he resigned from his Registrar's post, sold his priceless collection of Winslow memorabilia, and decamped to Ventnor on the southern coast of the Isle of Wight. He found no rest or succour in the balmy sea air and his bronchial condition continued to worsen. No doubt, his spirit had been broken. He returned to Winslow to die in December 1900 at the age of 68. His death was widely mourned by his friends and those who admired the work that Arthur Clear had done to establish the history of Winslow.
The full text of Arthur Clear's 1888 lecture is available on this website. Much of the information on the website derives from his 1894 book.
Alfred Joseph Clear (1856-1935) followed in his father's footsteps as a local historian, as this report from the Bucks Herald of 3 March 1906 shows (Rev. Riordan was Pastor of the Congregational Church):
The concluding "Gossip on Old Winslow" was given at a public meeting in connection with the Mutual Improvement Society on Monday evening, by Mr. A.J. Clear. There was a good attendance, and the Rev. J. Riordan presided. The "gossip" included brief references to the old lamp [camp?] on the Great Horwood-road, dating from Cymbeline, and the Saxon period of Offa, followed by the Danish inroad. The Domesday period was described at some length, showing Winslow as growing in importance until the time of the Black Death, 1347, when it must have been an important place, judging from the fact that no less than 150 tenants of the Manor were recorded as dying in a period of a little over twelve months. The state of servitude in which the tenants lived and the slavery in which the serfs were held was dwelt upon somewhat minutely, examples being given of the restrictions under which they were held, rising in Wat Tyler's time and marching to St. Albans and compelling the Abbot (by "sheer force and roguery," as he put it) to give them a charter of freedom: and then when the rising was put down the execution of many of them at Hertford. Details were given of the course of events until at the suppression of the Monasteries the Lordship of St. Albans over Winslow ceased. Other matters mentioned were the Church, with its ancient monuments, some account of the penances done in it, and other details; the Civil War, with its skirmishes at Winslow, Addington, and Swanbourne; Benjamin Keach's trial at Aylesbury, 1664 (from an old manuscript account) for publishing a "Child's Primmer:" the fire at Winslow, when the Three Pigeons and a great part of the present High-street was burnt down: the fire at Great Horwood and the damage sustained by the Winslow fire engines at that fire; Winslow Schools, dating from the "School of the Monks" in the 14th century; marriages during the Commonwealth; and, lastly, the old family names of Winslow, Mayne, and Jennings, mentioned about 1320; Verney about 1440; Gibbs, Williott, and Illing about 1500; Lowndes about 1575. Mr. Clear also answered several questions arising out of the Gossip. A hearty vote of thanks was accorded him.
Alfred went to school in Marlow before his father (then a police inspector) moved to Winslow. He continued the family tradition by writing for the local press and lecturing on Winslow history: his lecture on Old Winslow was published in the Buckingham Advertiser in 1932. His obituary called him "a notable authority on local history and antiquarian matters" with knowledge which he "impart[ed] with a simple literary relish that had a charm of its own".
Alfred Clear ran the printing works in Greyhound Lane which he took over from Edwin French. He also ran a circulating library. The first notice below presumably refers to his father:
1894: Bucks Herald, 1 Sep
WANTED, a Respectable, Quiet, and Industrious PERSON, age 45 to 50, as HOUSEKEEPER to an Elderly Gentleman: a good home. References required.- Apply, CLEAR'S LIBRARY, High Street, Winslow.

1894: Bucks Herald, 6 Oct
FURNISHED APARTMENTS.- Large Sitting Room and Bed Room TO LET; would suit a newly-married couple, or arrangements could be made to let half the house; nice home.- Apply, "H. S.," Clear's Library, Winslow.

1894: Bucks Herald, 8 Dec
16-STOP HARMONIUM FOR SALE, 3 knee swells, 4½ rows vibrators, rosewood case, fine tone. Price £12.-CLEAR, The Library, Winslow
He was also a prominent member of the Congregational Church, chairman of the Parish Council, chairman of the Gas Company, secretary of the Flower Show and secretary of the Winslow Shire Horse Society. He got married in 1886 to Elizabeth Elley (who died in 1905) and their daughter Rebecca was born in 1887. She became his partner in the printing business, and they lived together at 68 High Street. She died in 1942.
Back to Families / People
See also: