Keach's Meeting House and the Winslow Baptists
The Gyles family of Winslow were probably Baptists from the early 17th century, as none of them were baptised in the parish church. There was an organised Baptist group by 1654, when John Hartnoll was sent as messenger to the General Assembly of General Baptists. By 1660 Benjamin Keach was pastor, on whom see K. Dix, Benjamin Keach and a Monument to Liberty (Dunstable, 1985). Keach left for London in 1668.
Arthur Clear: A Thousand Years of Winslow Life (1888), pp.17-18 on Benjamin Keach
In 1660, Benjamin Keach was chosen pastor of this little Baptist Church. He was a native of Stoke Hammond, and had recently married Jane Grove, a resident of Winslow. He was a powerful preacher, and in after years proved himself a voluminous writer, and a poet of no mean order, but it is chiefly for the courageous fidelity in which he bore witness for Christ and His cause, without fear of man, that his name should be kept in remembrance. Keach had only been settled a short time at Winslow before he was called upon to endure persecution and suffering. For the Authorities soon determined to suppress these meetings of the Dissenters, and they speedily paid Winslow a visit. Keach was preaching at the time and the troopers seized him with great violence, and swore they would kill him, and after treating him with great indignity, they tied him behind one of the troopers, across his horse, and so conveyed him to prison, where he suffered great hardships. It is not our purpose to narrate all the persecutions he was called upon to undergo and his imprisonment and sufferings in the pillory, both at Aylesbury & Winslow where his books were burnt in the Market-place by the common hangman. He continued his ministry at Winslow, until 1668, but being constantly harrassed by the civil powers, he removed to London, where he was chosen pastor of a small congregation in Tooley St., Southwark, with whom he remained till his death, in 1704. This church among whom Keach so long and successfully laboured, is now (after sundry migrations upon account of London improvements) located at Newington, in the Metropolitian Tabernacle, under the Rev. Charles H. Spurgeon.
Some of Keach's writings are available via Google Books. There are links and more biographical information on the Baptist History Homepage. The following tongue-in-cheek description was written by the bookseller John Dunton (Life and Errors of John Dunton (1705), 236-37):
Mr. Keach - mounted upon some Apocalyptical Beast or other, with Babylon before him, and Zion behind him, and a Hundred Thousand Bulls and Bears and furious Beast of Prey, roaring, ramping, and bellowing at him, so hideously, that unless some kind Angel drop from the Clouds, and backs and hews very plentifully among 'em he must certinly be Torn as small as a Love-Letter - This War-like Author is much admir'd amongst the Anabaptists, and to do him right, his Thoughts are easy, just and pertinent - He's a popular Preacher, and (as appears by his awakening Sermons) understands the Humour and Necessity of his Audience - His Practical Books have met with a kind Reception, and I believe his War with the Devil, and Travels of True Godliness (of which I printed Ten Thousand) will sell to the end of Time.
---
National Archives, ASSI 16/9/2: records of the Bucks Assizes, Summer 1664.
This is the session at which Keach was tried, and there is a full record of his indictment. The list of people who were summoned for not attending their parish church for three months up to 1 May includes some from Winslow:
John Genester yeoman & wife
[ - - ] Taylor & wife
Thomas Deeley yeoman
William Forth yeoman & wife
John Forrest [ - - - ]
[ - - - ] yeoman
William Giles yeoman
Similar lists for Lent 1665 (ASSI 16/10/1) include Francis Hartnoll of Newton Longville yeoman and Henry Tompkins of Great Horwood yeoman, but no-one from Winslow.
---
The next clear evidence of Baptists at Winslow is the Return of Conventicles (1669), a list compiled for the Church of England:
Winslow: 40 Anabaptists meeting at the houses of Eliot, a Carpenter, now Foster a Baker, John Holl(and) of Greenborough and at Northmarston. Preacher: Hartnoll a Thatcher of Northmarston.
Swanbourne: not above 20 meane people meeting at the house of George Deverell, yeoman. Preachers: William Giles, a Shopkeeper, and one Hartnoll, a Thatcher
Arnold Baines (Baptist Quarterly 17 (1957), p.42) identified "Eliot" as Nathaniel Elliot, carpenter of Aylesbury, who was one of 12 Aylesbury Nonconformists sentenced to death in 1663 but eventually pardoned. However, the name Elliott was very common at Winslow, and Thomas Elliott, carpenter, is mentioned in the 1672 court rolls.
John Hartnoll of North Marston (d.1673) attended a meeting of General Baptist churches in London in 1654 (Dix 1985, p.21). The Orthodox Creed of General Baptists was signed on 30 Jan 1679 by 54 men from Bucks, Herts, Beds and Oxon. The names include some who definitely belonged to the Winslow church:
John Hendly (see below)
Leonard Wilkins of Shipton Lee (see below)
Robert Goodson (see below)
William Norman of Steeple Claydon (see below)
John Holan: identifed by Baines as John Holland of Granborough.
John Hobbs: identified by Baines as John Hobbs senior of Great Horwood.
and some who may have done:
William Glenister (x2): Baines thought they were from Pitstone or Amersham, but people with the same name are well documented at Winslow.
Hugh Glinister
John Glenister: presented on 11 Jan 1683 for absence from Winslow parish church
Angel Mantle: Baines only noted that his surname was well attested at Chesham and Little Missenden, but presumably he was the Angel Mantill named as a tenant at Winslow manor courts from 1684, probably with property at Granborough.
Baines' notes on the above:
p.84: JOHN HENDLY was probably John Henley, gentleman, of Shipton in Winslow, whose house was certified as a public meeting-house at the Epiphany 1692/3 Sessions. In 1668 he mortgaged his copyhold property to an Oxford barber, and in 1698 exchanged land with William Lowndes; the court roll gives the name of his wife, Katherine. Henley was a county treasurer for the maimed soldiers in 1704-5, and one of the seven jurymen of Winslow in 1711, with Daniel and William Giles.
One John Henley served as churchwarden in 1664 and another in 1706; presumably the Baptist was different from both of these. Men described as John Henley senior and junior appear in the 1694 court rolls.
LEONARD WILKINS, grazier, of Lee in Quainton, registered his house for worship as soon as the Toleration Act became law, in order to accommodate a branch of the church at Winslow. He represented that church at the General Association in 1700, was elected its elder in 1701, took the oaths and signed the Association in defence of King William III, abjured the Pretender on Anne's accession and again represented his church at the General Association in 1702-04. His name occurs thrice in the church book of Ford: as a signatory of the Bierton agreement and of the Lipton conclusions and as preaching at Kingston Blount in Oxon in 1714. In 1721 the Buckinghamshire Association sent him and Jonathan Widmer, elder of Berkhamsted and later Messenger, to ask Stony Stratford to release its elder, John Brittain (1660-1733) to serve as Messenger in Bucks, in succession to Clement Hunt. A list written between 1760 and 1775 at the end of the Bucks. Association book gives George Wilkins as elder of Winslow in 1722, but this is probably an error, as Leonard Wilkins attended as elder in 1722-26; the transcriber may have read Leo. as Geo.
Leonard Wilkins made his will in 1723 making his daughter Amy Clark executrix (Centre for Bucks Studies, D/A/Wf/75/102). She was apparently the wife of Elias Clark and had a daughter Mary. It also mentions Leonard's daughter Sarah Clements, son-in-law John Clements, their daughter Amy and another child on the way. The witnesses were Thomas Goodson and Mary Norris. Probate was granted on 21 Feb 1727/8, by which time Amy was a widow.
p.176: ROBERT GOODSON, elder of the church of Winslow, has been attractively identified by Dr. Whitley with a naval officer who served under Blake against Van Tromp and is mentioned in a pamphlet of 1653. Baptist influence in the Navy was then strong. Goodson was preaching in 1669 to "the meaner sort" at Woodham near Waddesdon. He took the oaths and registered his house at Winslow for worship in 1689, signed the Bierton and Upton agreements and the declaration of 1700 against Calvinism, and represented his church at the General Assembly in 1692 and at the General 'Association from 1697 until 1701, when William Giles succeeded him. He took the abjuration required by 1 Anne c.22 in 1702, and is last mentioned in 1703.
WILLIAM NORMAN of Steeple Claydon, a grocer with a Lollard surname, was excommunicated in 1662 for absence from his parish church. There is a mysterious note against his name in the Visitation Book: "apparitor petit favorem / emiitte ex." Norman was presented at Quarter Sessions for absence from church in 1682 and again in January, 1687, when the persecution was almost at an end. He took the oaths in 1689, abjured the Pretender in 1702 and next year witnessed a sacrament certificate, an act which many Baptists would certainly have condemned. Norman is not mentioned in a list of Steeple Claydon ratepayers dated 1st November, 1710, but his name occurs in a curious minute in the church book of Cuddington or Ford, dated 10th October, 1711, but referring to previous events. "Whereas Bro Beguent had in time past told Br Cripes that Bro: Gyles & Bro Norman had each of them proffered him a years board, If he would Come to Winslow which was ffalse & when Bra Grips tould Bro: Beguent of it he denyed that ever he told him soe: and stood to it possitively many times & affter at another Church meetting did allow that he did tell Bro Crips soe, which thing we take to be a Great Lye if not many included in it." It was irregular for an elder to migrate to another church, but Begent was apparently not ordained.
See his will (proved 1701) - some of Baines' information above can't refer to him.
---
William Gyles was involved in a legal dispute with the Duke of Buckingham: Duke of Buckingham and trustees v William Gyles, 1677. It doesn't seem to have been anything to do with religion (it was about market stalls), but one of the witnesses was said to have been called to see Mary Gyles at the house of the vicar, Samuel Dix, in 1671. That suggests that Rev. Dix could be on good terms with Baptists, unlike some of his successors.
---
In the 1680s, Winslow Baptists were constantly summoned before the Archdeacon of St Albans because they had not "received the sacrament of the Lords supper" according to Anglican rites or had not attended the parish church. The following list compiled from the Archdeaconry Court records (Herts RO ASA7/35-36a) shows the years in which people were recorded as offenders. They were not specifically identified as Baptists (although Widow Whitemeale of Granborough was summoned in 1685 for "refusing to be baptised") but it can be assumed that they were. No punishments are recorded, only admonitions.
William Gyles sr: 1684, 1685, 1686
Mary Gyles his wife: 1685 ("her husband alledgeth that she is in Issue of body and cannot appear"), 1686
William Gyles jr: 1684, 1685, 1686
Sarah Gyles his wife: 1685, 1686
Thomas Deely sr: 1684, 1685, 1686
Thomas Deely jr: 1685, 1686
Samuel Norman: 1685 (said to be a "reputed Anabaptist and keepe frequent Conventicles"), 1686
Martha Norman his wife: 1685, 1686
Daniel Coley: 1685, 1686
Sarah Coley his wife: 1685
Thomas Gubbins: 1685, 1686
Martha Gubbins his wife: 1686
John Stevens: 1686
Mary Gyles, single woman: 1686
Joseph Gyles: 1686
No similar records survive for 1687, and in 1688 the overthrow of James II led to greater tolerance for Nonconformists. The Bucks Quarter Sessions of Midsummer 1689 recorded dissenters who "scruple the baptizing of infants" (i.e. Anabaptists), and subscribed the declarations contained in the act of 1 William and Mary, c. 18, sec. 10, including:
Robert Goodson of [blank]
William Gyles, junior, of [blank]
Names of dissenters who took the oaths provided by the act of 1 William and Mary, c. 1, and subscribed the declarations contained in the acts of 30 Charles II, stat. 2, c. 1, sec. 3, and 1 William and Mary, c. 18, sec. 1. including:
Robert Goodson of [blank]
William Gyles, senior, of [blank]
William Gyles, junior, of [blank]
William Norman of Steeple Claydon, grocer
At the same session, William Gyles' house at Winslow was registered as a meeting place for public worship; also Widow Holland's at Granborough.

---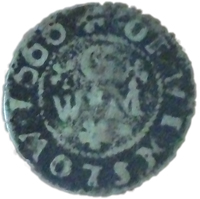 The Baptist meeting house was built in 1695 on the land of William Gyles the elder, draper (d.1702). There is a datestone of 1695 (photo on left) with the initials WMG, meaning William and Mary Gyles (the same initials are on William's trade tokens - see photo on right). See Gyles Family page. William in his will left 13s a year for the Baptist poor. He already provided a meeting place (although the belief that the meeting house was built in 1625 comes from a faulty restoration of one datestone): in 1689 William Gyles registered his house for public worship at the Midsummer Bucks Quarter Sessions. Nonconformist meeting houses of this period tend to be discreetly sited to avoid the sort of persecution which marked the career of Benjamin Keach, after whom the chapel is now named, but it happened to be where the Gyles family lived anyway. In Michaelmas 1690 Robert Uding's house was also registered; this was in Sheep Street if he can be identified with Robert Eden, and could have been for use by a different denomination.
Read the report by the Royal Commission on the Historical Monuments of England, published in Nonconformist Chapels and Meeting Houses: Buckinghamshire (1986), 27-29: history; description; images.
In 1696, William Gyles and his son Daniel surrendered the meeting house to charitable uses (N. Saving, Glimpses of Past Days, p.13).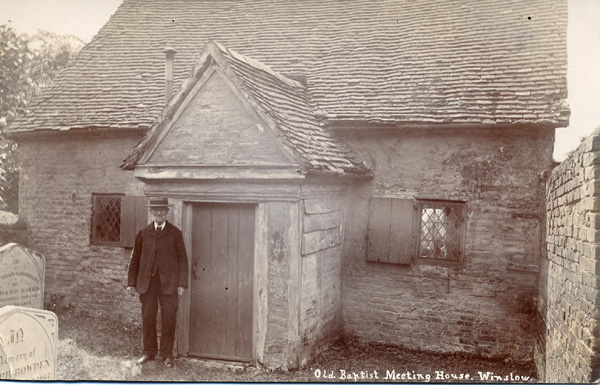 George Whichello outside the Meeting House, c.1913
The following people from the Winslow church attended the annual General Assembly or General Association of General Baptist churches in London, held in May or June each year (source: Minutes of the General Assembly of the General Baptist churches in England, vol.1 1654-1728, ed. W.T. Whitley, London, 1909)

1692: Robert Goodson and William Giles
1697: Robert Goodson
1698: Benjamin Morley, messenger [listed as pastor from 1696 by the Strict Baptist Historical Society], and Robert Goodson, elder
1699: no representative
1700: Robert Goodson, elder, and Leonard Wilkins and John Perkins, representatives
1701: Robert Goodson, elder
1702: William Gyles, elder
1703: Leonard Wilkins, elder
1704: Leonard Wilkins, elder
William Gyles, grandson of William Gyles the elder, in his will of 1713 left 20s p.a. to the General Baptists of Winslow. He or his father was probably the "Bro. Gyls" who was to take the Baptist service at Ford on 3 Aug 1709 (Church Books of Ford, p.68).
---
Under the Burial in Woollen Act of 1678 the overseers had to make an annual return of burials in the parish for which an affidavit had been sworn or a fine paid for permission not to use wool. The Winslow records list some Baptist burials which were not in the parish register, and also show what Anglican attitudes to the Baptists were like.
1703
Buryd of the Rownd-heads
Mary Baldwyn - - - Aug 18
1704
By R(e)gest(er) of the Rownd-heads 1704
Benjam: Morly - - - Sep 18
Alice Gyles - - - Nov. 5
Mary Giles - - - Mar 4
Burials must have been carried out in the parish church later, much to the disgust of the Anglicans.
1713
William Gyles Antichristian Bishop - - - Ap. 21
William Gyles Antichristian Baptist - - - No. 2
Daniel Coley Anti(chris)t(ian) - - - Jan 6
In 1714 the burials in woollen list included (without comment) a number of burials which were not in the parish register, so were presumably Baptists buried at the meeting house.
1714
Sarah Coley - - - Mar. 30
Thomas Wainwright - - - May 20
Daniel Coley - - - June 14
Mary Wainewright - - - July 11
Martha Gyles - - - Aug 10
Thomas Deely - - - Aug 29
---
On 7 Dec 1713, the Winslow Baptists wrote to their counterparts in Berkhamsted asking them to "spare" Brother John Anderson "to serve us in the work of the Ministry". The letter was signed by Leonard Wilkins, Samuel Norman, Matthew Deely, Thomas Mountague and Thomas Goodson. The Berkhamsted Baptists replied that they wanted to be satisfied about financial provision made for Anderson, and about the repayment of loans "to set him in a way of business". It appears that he did not go to Winslow, perhaps because he died as the Berkhamsted church made provision for a Widow Anderson. Source: English Baptist Records I: The General Baptist Church of Berkhamsted, Chesham and Tring 1712-1781, p.6.
According to Clear (p.94) "there is a tradition that Thomas Forster was pastor of Keach's Chapel in the early part of the 18th century", and the Strict Baptist Historical Society records him as pastor until 1728. Thomas Foster (1685-1746) was an elder of the Chesham Baptists and proposed for ordination as messenger in 1718, but quarrelled with them for "differing and fighting" and then marrying "out of the way of the Lord". He appears to have married Sarah Gyles in 1719 and moved to Winslow (his native place), but the Winslow Baptists did not follow the normal procedure of asking Chesham to approve his moving to another church. Source: ibid. pp.1-53. It's possible that two different Thomas Fosters have been conflated here.
---
In 1722, Daniel Gyles reestablished the meeting house with new trustees; it appears that he still held the land on which the house was built. The full legal procedure is recorded in the October 1722 manor court. The main details are:
Daniel Gyles surrendered a piece of land in Winslowe, formerly parcel of a close belonging him called the Home Close, which was divided from the other part of the close by Daniel's father William Gyles deceased to build a house or structure called the Meeting House, with the structure lately erected there extending from the ground of Mr Samuel Norman 43½ feet to the south and from the garden late Joseph Harding's 25 feet to the east, and liberty of ingress at all times to the Meeting House or parcel of land in and through the backyards, yards and "Gatewayes" belonging to Daniel, leading from the said house to the street near the "Poole" called Pillers Ditch.
The land was granted to Daniel Gyles and Joseph Turner who then surrendered it to 9 trustees: Thomas Mountague of Grandborough Yeoman, Elias Clarke of Quainton gentleman, James Britain of Winslowe Yeoman, William Foster of Oveing gentleman, Mathew Deely of Winslowe Bricklayer, Thomas Wootton jr of Whitchurch Tayler, Robert Bell of Swanbourne Yeoman, Daniel Gyles jr of Winslowe Draper & Daniel Deely of Winslowe Bricklayer. On trust that they and the survivors of them and the heirs of such survivors should afterwards permit the house called the Meeting House and parcel of land and other liberties belonging to it to continue and be designated a place of public worship, so that such person and persons who are or will be distinguished or called by the names of Baptists, Dissenters from the way and communion of the Church of England and Presbytery, can be gathered together for God.
---
Minutes of meetings of the General Baptist Association for Bucks held at Aylesbury 1721-6 and 1734 (Baptist Quarterly 4.2, 84-87; 4.3, 173-184) show these representatives for Winslow:
11 April 1721: Bro. Wilkins, elder
3 Oct 1721: Bro. Wilkins, elder; Wm Foster, representative
27 March 1722: Bro. Wilkins, elder; Bell, representative
2 Oct 1722: Bro. Wilkins, elder
18 April 1723: Bro. Wilkins, elder; Dan. Deely, representative
7 Oct 1723: Bro. Wilkins, elder; Bro. Brittain, representative
7 April 1724: Bro. Wilkins, elder; Bro. James Brittain, representative
6 Oct 1725: Bro. Leonard Wilkins, Bro. James Brittain, elders
30 March 1725: Bro. Leonard Wilkins, Bro. James Brittain, elders
5 Oct 1725: blank
11 April 1726: Bro. Wilkins, Bro. Brittain, elders
29 April 1734: Jos. Jenkins, elder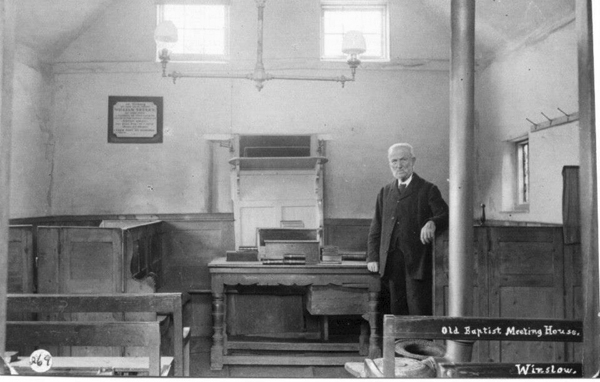 George Whichello inside the meeting house. There is a plaque commemorating William Yeulet on the wall.
In 1732, James Britten, by then a grazier of Granborough, left 20s a year each to the Baptist ministers of Winslow and Ford (see his will).
---
These names were transcribed by Clear, King's Village in Demesne, pp.89-90, from the memorial plaques and tombstones in the meeting house and graveyard
Grace Aldridge, daughter of Thomas and Grace Aldridge, d. 22 March 1726
Sarah Gyles, relict of William Gyles, daughter of Benjamin Morley, gent. d. 6 Sep 1726 aged 71
Martha, relict of Thomas Burch, daughter of Samuel Norman, d. 29 Aug 1731 aged 36 [she married Thomas Birch of Hemel Hempstead at East Claydon on 4 July 1719]
Sarah, daughter of Thomas and Sarah Foster, d. 14 April 1728
Dick, their son, d. 14 April 1737
Mary Gyles, wife of Daniel Gyles senior, d. 15 Aug 1734 aged 58
Frances Collier, her sister, d. 6 Nov 1734 aged 48
Mr Samuel Norman, d. 22 Nov 1735 aged 76
Mrs Martha Norman, d. 2 Nov 1742 aged 79
Mr Daniel Gyles senior d. 5 April 1747 aged 74
Dinah Delafield, d. 25 March 1775 aged 73
Sarah, her sister, d. 8 June 1775 aged 68
---
At the manor court in 1747 (q.v. for the full text, an English translation of the 1722 text, repeated in 1774) the surviving trustees, Mathew Deely of Winslow, bricklayer and Daniel Gyles of Abbotsfield, Berks, maltster, surrendered the meeting house and the ground on which it stood in order for it to be invested in new trustees:
the said Mathew Deely, Daniel Gyles of Abbotts feild, Samuel Gyles of Winslow aforesaid Linnen Draper, James Hall of Tingwick [sic] ... gentleman, John Hall of Tingwick ... son of the said James Hall, Edward Howlett of Long Crendon ... Gentleman, William Gyles of Tingewick aforesaid Gentleman and William Coates of Bow Brickhill ... Yeoman
---
On 24 April 1750 the Berkhamsted and Chesham Baptists wrote to Winslow recommending Brother Joseph Keen and his wife.
---
Jane Harding, nee Gyles (granddaughter of William Gyles) in her will of 1755 (proved 1761) left £2 p.a. "unto Mr James Hall the present Minister of the Protestant Dissenting Congregation called Baptists at Winslow aforesaid and to his Successors for the time being and his and their Assigns for the full Term of Ninety Nine years". The bequest was to lapse "if at any time during the said Term of Ninety Nine years there shall happen to be no Congregation or Meeting of Protestant Dissenters called Baptists at Winslow".
---
The following document is from the Winslow Court Books in which all transactions concerning copyhold property in the town were recorded. It is a 1774 surrender by the surviving trustees of the Baptist Meeting House and the admission of new trustees who will be responsible for the upkeep of the building and the continuation of Baptist worship in Winslow. James Hall joined the Particular Baptists ("turned Calvin") and there were no General Baptists left in Winslow (Dix, p.23). The addresses of the new trustees confirm this; they appear to be descendants of earlier Winslow Baptists.
30 Sept 1774, Centre for Bucks Studies D 82/1 p.175
Surrender:
James Hall of Winslow gentleman
John Hall of Winslow mason son of the said James Hall [pastor 1770-77 according to the Strict Baptist Historical Society]
Admission:
Samuel Norman of Henley upon Thames Esquire
William Britain of the City of London tallow chandler
John Shenstone of the City of London silk dyer
William Aldridge the younger of Red Lion Passage Holborn London working goldsmith
Francis Cox of Bletchendon Waddesdon dairyman
Samuel Shenstone of Stony Stratford tallow chandler
Richard Cox of Westbury House Shenley dairyman
William Cox of Tatenhoe dairyman
All that piece or parcel of Ground in Winslow aforesaid within the said Manor heretofore parcel of a close the Home Close late belonging to Daniel Gyles late of Winslow aforesaid linen draper deceased which said piece or parcel of ground was divided from the other part of the said Close by William Gyles deceased father of the said Daniel Gyles deceased to erect thereupon a House or Building called a Meeting house for such people who are or shall be called or distinguished by the name or Names of Baptists dissenting from the Way and Communion of the Church of England and presbytery for to meet in for to worship and serve God

And also the House and Building since erected thereupon called the Meeting House and the appurtenances thereunto belonging which said piece or parcel of ground extends from the Ground of the said James Hall (allowed from the Eaves Drops of his Barn) forty three feet and an half southward and from the Garden of the late Joseph Harding and now of Benjamin Ingram twenty five feet Eastward and also free Liberty of Ingress Egress and Regress Way and Passage at all times to and from the said building called the Meeting House and parcel of the Ground thereunto belonging in and through the Backside Yards and Gateways late belonging to the said Daniel Gyles deceased leading to and from the said meeting House into the street near to a pool there called Pillers Ditch.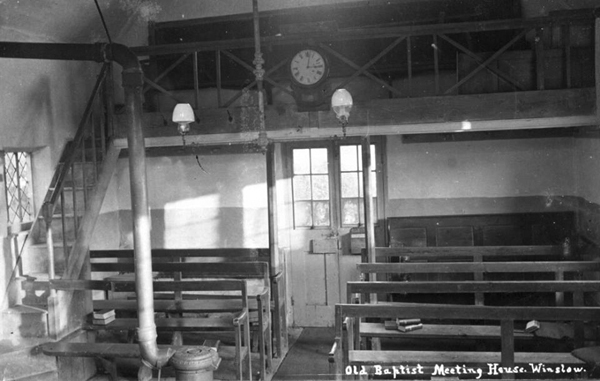 The east door was added with the gallery in 1827. Clear called it an "objectionable feature" and it was removed in the 1950s.
---
The meeting house came back into use in 1799 thanks to Thomas Wake, the Particular Baptist pastor of Leighton Buzzard, and the Bedfordshire Union of Christians. It was used by both Baptists and Independents (Congregationalists). In 1807 eight people formed a Particular Baptist church in Winslow (Dix 1985, p.23). Officials mentioned by Dix are:
George Dormer: pastor 1809-12
William Matthews: deacon 1818
William Gomm: preacher 1832
Samuel Bates: pastor 1847-9 (he was a bricklayer working on the construction of the railway)
William Nobbs: preacher 1849
William Yeulet: baptised 1863, became pastor at Eaton Bray 1869, d.1873 aged 33
James Spooner: superintendent of Sunday school, 1871-83
Thomas B. Saving: preacher, baptised in 1862, d.1891
George Whichello: joined in 1862, d.1915. Bequeathed £100 for the upkeep of the meeting house.
William Verney: joined in 1862, d.1926. Last member of the regular congregation.
Clear (pp.90-91) copied these entries from the Chapel Books
Robert Gibbs of Castle Street, Aylesbury, son of Mr John Gibbs of Winslow, buried 5 April 1808
Thomas Dawney, son of Thomas Dawney of Aylesbury, buried 5 April 1815 aged 45
Mary Ludgett buried 9 Jan 1817 aged 64
Sarah Lomath buried 13 March 1821 aged 72
Henry George, husband of Mary George, buried 15 Feb 1826 aged 50
Mary George buried 19 May 1826 aged 50
John Gibbs buried 3 April 1826 aged 82
Mary wife of John Gibbs buried 27 March 1828 aged 89
William Lomath, husband of Mary Lomath, buried 28 July 1830
William Matthews, deacon, buried 19 May 1860 aged 73
Phillis Cox d. 28 Jan 1868 aged 81
Joseph Bowden d. 22 March 1867 aged 62, buried in the graveyard
28 June 1807: baptism of William Foscott, Mary Gibbs, Sarah Davis in Great Horwood Brook
16 Aug 1807: baptism of William Anstee and Phillis Cox
The RCHM report also lists these memorials in the chapel:
William Yeulett, 1873, Baptist pastor at Eaton Bray
George Whichello, 1915
William Matthews, 1860, and Mary his wife, 1856
The gallery was built in 1827 to accommodate a group who had seceded from the Independent (Congregational) Church, and was originally larger than its present size. See Religious Census, 1851: there were at least 30 regular members of the congregation. After a decline the church was reconstituted in 1862-3 with 13 members, but these finally died out in 1926. An attempt to re-establish it in 1936-7 failed, and the meeting house has only been used for occasional services since then.
Oxford Telegraph, 10 Feb 1864
REVIVAL SERVICES AT THE BAPTIST CHAPEL, WINSLOW.
ON LORD'S DAY NEXT, Two Sermons will be Preached by MR R. W SIMMONS M.R.C.P., of WYCLIFFE HOUSE, BUCKINGHAM. Subjects. In the morning, "God's Everlasting Covenant of Grace." Service at half-past ten. In the evening, "Christ's Gospel of Man's Salvation." Service at six.
A Special Prayer Meeting will be held after the evening service.
This was preliminary to the opening of the Baptist Tabernacle later in the year. That left the original meeting house redundant and for a time it was used by the Wesleyan Methodists, which explains why it is marked as such on the 1880 OS map (although they had moved by then).
Buckingham Advertiser, 14 Nov 1868,
WESLEYAN EFFORTS.- On Tuesday, November 10th, the opening services in connection with the Wesleyan Methodists of the Buckingham Circuit were held in the Old Tabernacle, which they have taken in the above place. In the afternoon the Rev. J. Shearman, Wesleyan Minister, Buckingham, preached an able and appropriate sermon from Zech. xiv., 8. A public tea was provided at 5 o'clock, after which a public meeting was held, attended by a pleasing and crowded audience. The chair was taken by W. Ward, Esq., of Aylesbury, who on rising said it afforded him great pleasure to be able to greet the friends of Winslow on circumstances so favourable. It was, in his judgment, a step in the right direction, and he trusted Methodism would be made a blessing to the town. The meeting was further addressed by the Rev. Mr. Walker (Baptist), Rev. J. Shearman, Messrs. Cooke, Slade, Carter, and White, who gave interesting and stirring addresses. The proceeds, including tea, collections, &c., amounted to £13 7s. The day was a most successful one, and the results far exceeded the anticipations of all.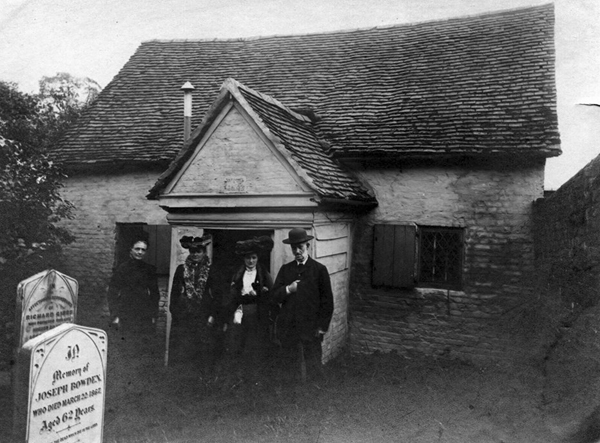 Buckingham Advertiser, 24 June 1876
INTOLERANCE AT WINSLOW has this week been the subject of comment and indignation. Mr. [William] Henry Lomath, shoemaker, a respected inhabitant of Winslow, died suddenly last Saturday, and an inquest on view of the body will be found reported in our columns. We have been given to understand that the deceased's friends lay buried in the churchyard, and it was constantly intended to have the deceased buried there also. We hear that it has been intimated that the reading of the usual burial service would not be allowed, because the deceased man had not been baptised. Acts of uncharitableness on the part of church officials are of too common an occurrence now-a-days, unfortunately, to cause much wonderment. It is, however, surprising that the men who are professedly the friends of the Established church should act in so sure and effectual a way to shorten the days of its existence as an exclusive establishment. The promotion of unity, and not dissention, should be the aim of everyone interested in the church's welfare. It appears that although the usual form of burial in the churchyard has been refused, the Baptist friends have raised no objection to placing Lomath's body amongst their dead.- Bicester Herald.
[Mr Lomath's gravestone is still visible in the burial ground, to the left of the photo above.]
Back to Chapels
Copyright 19 October, 2020